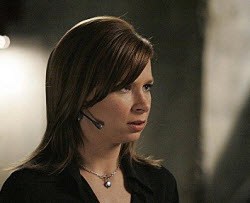 Well this seemed like it would probably be the case, and Mary Lynn Rajskub retweeting every single fan day in and day out that Chloe should be in the 24 mini-season finally panned out, it seems. It's been announced that yes, Chloe will join Jack Bauer on his one final (?) adventure when he moves back to TV for Live Another Day. I love that title as it's the complete opposite of James Bond's Die Another Day, and Jack Bauer is pretty much the anti-James Bond. In a good way.
Chloe ended up being practically the only surviving regular cast member on the show in the end, though my memory is failing me who else might have made the cut. Did Tony Almeida ever die? I remember that being something of a loose end. Oh, I guess there's also been talk that Kim Raver might return, but yeah, the show did end up killing off almost everybody in the end.
There's still no word on what exactly the plot of this series is going to be, but it has been said that it will stick to 24′s real-time format. 24 already tried shortening itself with moderate success when Jack Bauer went to Africa to fight evil slavers in 24: Redemption. I thought that worked pretty well, but there's a lot more breathing room here with 12 episodes. By the end of the show, I did feel that 24 was just too many episodes for a season of the show. We've gotten used to cable shows now where 10-16 episodes a season fell comfortable.
Are you pumped that Chloe is back? I think it was definitely necessary. She was a character I couldn't stand at first, but then she grew on you over time and you realize she probably has some form of autism so you feel back for disliking her at all.