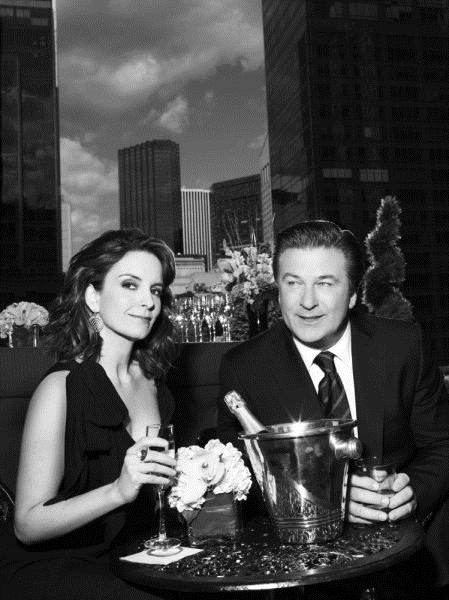 The past few weeks, 30 Rock (as a part of NBC's mostly solid stable of Thursday night comedies) was on hiatus. During this time, I've just been focusing on covering Archer, Adam Reed's new cartoon on FX. Both of these shows air at the same exact time. Thanks to DVR and streaming services like Hulu, comedy fans no longer have to choose. But what if they did?
This week's episode of 30 Rock sees Liz and Kenneth attempt to track down Tracy, who may still be in New York. Pete struggles with the TGS staff not giving him respect. Jack and Jenna team up to rewrite a Saw-esque torture porn movie in order to make it profitable, despite it never seeing the light of day.
Coming back to 30 Rock from Archer, I can't help but see 30 Rock as much more cartoony than Archer, which is actually a cartoon. The 30 Rock universe has morphed from one like ours to a universe in which the absurd is the norm. It's a universe in which Jack Donaghy is as interesting as the Dos Euqis guy claims to be, in which the "attractive bubble" actually exists.
Despite the show's recent changes, some good and some bad, "I Heart Connecticut" seemed like one of the most 30 Rock-est episodes of this season. TGS (and Pete, for that matter) plays a much bigger role and Jack is asserting himself in the creative process once again.
It wouldn't be 30 Rock without a few jabs at something that's over-saturated the pop culture psyche. This week, it was torture porn flicks. I saw the first Saw and absolutely hated everything about it (except Michael Emerson, duh). It makes sense, both in the 30 Rock universe and in our own that an actress like Jenna would be cast in such a film. In fact, Jack recites to Jenna the development process behind the film, ultimately ending up on a horror film starring "any blonde actress."
I've been refusing to accept 30 Rock's decline for a while, but absence did not make my heart grow fonder. The show is almost too silly. It's out-cartooning a cartoon. Both The Office and 30 Rock seem to have more or less run their course. We'll have to wait and see what each show has to offer next fall.