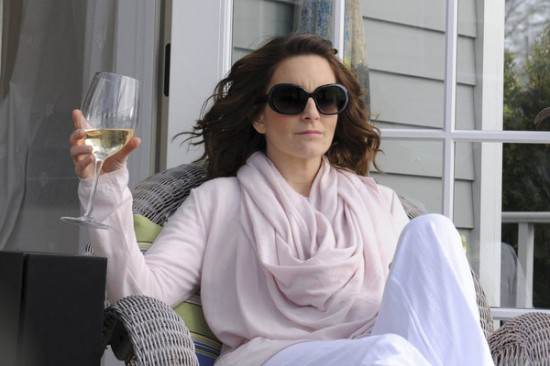 The season five finale of 30 Rock was all about returning to normalcy, or at least the characters' version of normalcy.
The TGS staff prepare for their summer break. The writers continue their marathon Halo match, Liz attempts to have the break to herself in the Hamptons, Jack struggles to cope with Avery's kidnapping and Jenna must scale back her crazy in order to become the new spokeswoman for wool.
Will Forte returned as Jenna's Jenna Maroney-impersonating boyfriend, Paul. The two share a hilarious scene, spoofing the classic "the boss is coming for dinner" sit-com dilemma. The main twist, of course, is that Jenna and Paul are both weird as hell. Being the "classic" version of normal is such a struggle for Paul and Jenna, especially when the facade is put into jeopardy when the dwarf dressed as a jester arrives for their weekly "sitting."
Chris Parnell also reprised his role as Dr. Spaceman. The best thing about Spaceman is that it's almost as if the writers look at what makes a doctor great, and made their doctor the exact opposite. Everything is says is something no one, let alone a doctor, should ever say. Here are a few gems from this episode:
"Now that this popsicle has melted, we have a tongue depressor."
On Liz explaining that the "other doctor" told her to remove her pants: "Oh, that's my brother, Randy. Tomorrow, he's going to jail for the rest of his life. Randy! Do you want to get Taco Bell for lunch?"
Kenneth helps Jack snap out of his funk is a totally Kenneth way. Jack makes Kenneth take Avery's place. They dine together, talk and even spoon on the couch. Ken finally snaps and "turns into" Avery. He yells at him until Jack realizes that he has a new normal, without his wife. It was interesting to see Jack powerless. He'll have power struggles occasionally, and knows when he's being bested, but this is the first time I can remember Jack being completely oblivious to his weakness.
With the finale being about returning to or embracing a new normalcy. "Respawn" proved to be a satisfying ending to season five, and bodes well for season six. There have been many naysayers during this fairly rocky season, but would you rather watch The Paul Reiser Show? I didn't think so.