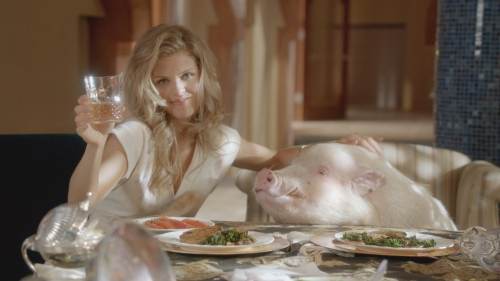 In an effort to keep you up to date on all facts about 90210's fourth season, we've put together a handy collection of episodic spoilers for you, as well as links to photos, sneak peeks and trailers. This is a one-stop shop for all of your 90210 season 4 needs. As episodes air and new spoilers become available, this page will be updated, so make sure to bookmark it and keep checking back.
Episode 4.05 "Party Politics" (October 11): Brandy makes a guest appearance in this episode as Marissa Harris-Young. Silver will be asked to make campaign videos for Marissa, who is running for office against Teddy's Uncle Charles (guest star Robin Thomas). Teddy will also be making an appearance in this episode when he runes into an old flame (guest star Ryan Rottman). Annie will have to deal with Leila during an important date. Liam and Jane's relationship will be threatened by the arrival of a surprise guest. Naomi, meanwhile, is struggling with her growing feelings for Austin.
View photos and a trailer for episode 4.05.
Episode 4.06 "Benefit of the Doubt" (October 18): Liam gets another shot at modeling after an agent sees the commercial for his bar and decides to offer him a modeling job. This episode will feature a charity talent show whose profits are meant to help pay for an experimental cancer treatment for Raj. Kellie Pickler will be guest starring as Sally, an out-of-town visitor of Austin's. Naomi will be determined to win the talent show competition in order to show up Sally. Dixon keeps pushing his limits while working on his music and Adrianna steps in with a bit of an intervention. Annie will also find herself falling for an unlikely guy.