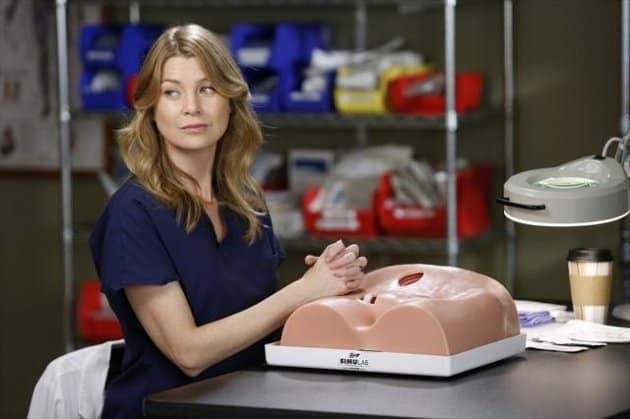 Last week Fox announced details of its February sweeps programs and today ABC is following suit, dropping teasers for your favorite shows next month.  There's the return of Body and Proof and the series premiere of Zero Hour coming up this month, as well as Valentine's Day-themed episodes for shows like Modern Family.
January 31 – February 1
"GREY'S ANATOMY" – "Bad Blood" — As Derek and April work around the clock to find a solution for the hospital, Cristina struggles to respect the wishes of a family whose son is dying. Meanwhile, Arizona empathizes with a teenager who faces problems similar to her own, on "Grey's Anatomy," THURSDAY, JANUARY 31 (9:00-10:02 p.m., ET).
"SCANDAL" – "Truth or Consequences" — After discovering the truth about the rigged White House election, the "Gladiators in Suits" realize that a quickly unraveling Olivia may not always wear the white hat. Meanwhile, Mellie is forced to take extreme measures to try and reel Fitz in, on "Scandal," THURSDAY, JANUARY 31 (10:02-11:00 p.m., ET).
"LAST MAN STANDING" – "Mike's Pole" — When Mike hangs his prized U.S. flag in the yard, 14-year-old Eve is inspired by her father's patriotism and announces she wants to join the Junior ROTC, which concerns Vanessa. Later on, a chance meeting at the VFW with a female armory gunner has an impact on Eve, on "Last Man Standing," FRIDAY, FEBRUARY 1 (8:00-8:31 p.m., ET).
"MALIBU COUNTRY" – "Based on a True Story" – Upon learning that Cash is having difficulty writing a one-act play for an English project, Reba tells him to look to his own life and write what he knows. But Reba's advice comes back to haunt her when Cash writes a play that contains a lot of similarities to Reba and Bobby's marital woes. Meanwhile, Lillie Mae decides to embrace her artistic self when Geoffrey gets her into his improv class, on "Malibu Country," FRIDAY, FEBRUARY 1 (8:31-9:00 p.m., ET).
"SHARK TANK" – "Episode 413" — A self-proclaimed "granola" couple from Boulder, CO, hope the Sharks will run with their sandals for barefoot runners; and a charming rabbi from St. Paul, MN, has the sharks listening to his business idea for a power-free magnetic sound enhancer for the iPad. A Miami, FL homemaker gets emotional when she tries to convince the Sharks to invest in her made-in-America multi-purpose bib; and a traveling salesman and father of seven from Hollywood, CA, pitches his website to help create personalized soundtracks for children. In a follow up segment, Jim Tselikis and Sabin Lomac give an update on "Cousins Lobster," their LA-based fresh Maine lobster food roll truck company which Barbara invested in during Season 4, on "Shark Tank," FRIDAY, FEBRUARY 1 (9:00-10:01 p.m., ET).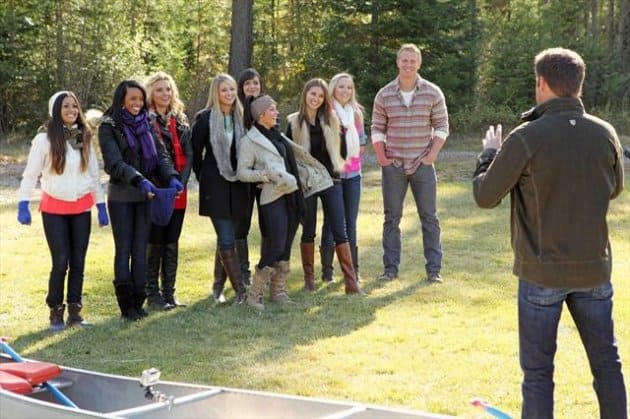 February 3 – February 8
"THE BACHELOR" – "Episode 1705" – A two-night "Bachelor" special event begins with Sean whisking the 11 remaining bachelorettes away to picturesque Whitefish, Montana, to explore his romantic connections But two nervous women face the dramatic two-on-one date where one of them will be sent home immediately. The Bachelor attempts to take one relationship to new heights when he and one lucky woman take an astounding helicopter ride over the gorgeous mountains of Montana's Glacier National Park, and later are treated to a special concert by country music star Sarah Darling. Eight women are split into teams to compete against one another in a Montana relay race, including milking a goat, with the winning team getting to spend more time with Sean. And one controversial bachelorette continues to cause a firestorm in the house, leaving Sean to worry if he ever will find his wife here, on "The Bachelor," MONDAY, FEBRUARY 4 (8:00-10:01 p.m., ET). Chris Harrison hosts.
"CASTLE" – "Recoil" — While investigating the murder of a young woman, Castle and Beckett find evidence that links her death to Senator William H. Bracken (guest star Jack Coleman returns), the man responsible for Beckett's mother's murder. Determined to finally bring Bracken to justice, Beckett soon realizes that things are far more complicated than they seem, on "Castle," MONDAY, FEBRUARY 4 (10:01-11:00 p.m., ET).
"THE TASTE" – "Comfort Food" – The competition gets underway as Anthony Bourdain, Nigella Lawson, Ludovic Lefebvre and Brian Malarkey roll up their sleeves with their teams of four cooks to help create the best tasting "comfort food" dishes. Things really heat up when the mentors now have to judge all 16 contestants in blind taste tests and eliminate two from the competition, on "The Taste," TUESDAY, FEBRUARY 5 (8:00-9:00 p.m., ET).
"THE BACHELOR" – "Episode 1706" – The two-night "Bachelor" special event concludes as Sean continues his journey around the world to find love, taking the nine remaining bachelorettes to the magnificent Canadian Rockies. One lucky bachelorette gets the first one-on-one date in Canada, including a ride in a monster snow truck on the glacier at Jasper National Park, followed by a fairy tale dinner in a magnificent ice castle. On the group date, Sean implores the seven women to strip down to their bathing suits and take a polar bear plunge in icy cold Lake Louise, but there are a few stubborn women who cause problems. The evening ends with Sean supplying an unexpected surprise. Another bachelorette receives a terrifying individual date when the couple needs to rappel 400 feet down a cliff in Banff National Park. Despite a raging snowstorm, the women scramble to advance their connection with Sean. Nerves are at an all-time high, and Sean's feelings are growing for all of the women, but six will remain at the end of the night, on "The Bachelor," TUESDAY, FEBRUARY 5 (9:00-11:00 p.m., ET). Please note special day and time. Chris Harrison hosts.
"THE MIDDLE" – "The Smile" — As other kids begin receiving college acceptance letters and Axl still hasn't, Frankie and Mike begin to worry that their son's chances for a sports scholarship have passed him by. Meanwhile Sue is determined to prove that smiling is contagious as a hypothesis for a school science project, and a relentless Brick begins pestering his parents for an iPad, on "The Middle," WEDNESDAY, FEBRUARY 6 (8:00-8:30 p.m., ET).
"THE NEIGHBORS" – "Space Invaders" — Debbie's relationship advice to Reggie Jackson about nerdy new girlfriend Giselle (guest star Lora Plattner) backfires badly, making things even more difficult for Jackie and Larry, who are having a hard time dealing with the fact that Reggie even has a love life. Meanwhile Amber resists Debbie's attempts to talk about her new boyfriend, handsome but dim jock Jeremy (guest star Grant Harvey), on "The Neighbors," WEDNESDAY, FEBRUARY 6 (8:30-9:00 p.m., ET).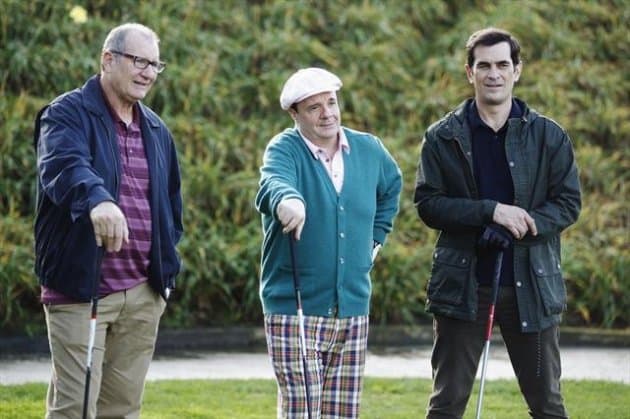 "MODERN FAMILY" – "A Slight at the Opera" – Cameron is putting on the school production of "Phantom of the Opera," but when their star falls ill, Manny pulls all the stops to land the lead — even if that means going against Luke. Meanwhile, Jay teaches Phil to golf and they wind up in a golf-off with Pepper and Mitch; Gloria takes Alex along on errands, which include a visit to a psychic; and Claire's adventures in babysitting Joe and Lily become a comedy of errors, on "Modern Family," WEDNESDAY, FEBRUARY 6 (9:00-9:31 p.m., ET). Nathan Lane ("The Producers") returns as Pepper, and Fred Willard ("Best in Show") as Frank Dunphy.
"SUBURGATORY" – "Body Talk" — When Dallas realizes a portion of her property is located in East Chatswin, her life is thrown into a tailspin after she's kicked out of the country club and Dalia is forced to attend East Chatswin High. Meanwhile, Tessa becomes a producer of the Chatswin High TV show, "Teen Talk," but struggles with her new role when Ryan becomes the host of the show, on "Suburgatory," WEDNESDAY, FEBRUARY 6 (9:31-10:00 p.m., ET).
"NASHVILLE" – "I've Been Down That Road Before" — Rayna begins to settle into the tour when she discovers that Deacon has joined Juliette's band on the road, and she can't help but think that maybe the time has come to make some hard decisions. But will a heart to heart with Deacon help ease the sting of the revelation? Meanwhile Juliette is tired of her bubble gum pop success and is interested in exposing who she really is, though her team is convinced that will damage her ommercial success. And Scarlett is counting pennies to keep her head above water — until Gunnar makes her an offer she can't refuse — on "Nashville," WEDNESDAY, FEBRUARY 6 (10:00-11:00 p.m., ET). Kimberly Williams-Paisley guest stars as Peggy.
"GREY'S ANATOMY" – "The Face of Change" — Competition heats up as several of the doctors fight to become the new face of Seattle Grace; April brings in an emergency case, and Jackson and Alex work with a transgender teen couple. Meanwhile, the hospital implements new policies which test the patience of the staff, on "Grey's Anatomy," THURSDAY, FEBURARY 7 (9:00-10:02 p.m., ET).
"SCANDAL" – "Nobody Likes Babies" — As David uncovers the truth about the Cytron case, things come to a head for Olivia, Cyrus, Mellie, Hollis and Verna. Backed into a corner, the five conspirators go to extremes and, in some cases, unconscionable lengths to protect themselves and/or the ones they love, on ABC's "Scandal," THURSDAY, FEBRUARY 7 (10:02-11:00 p.m., ET).
"LAST MAN STANDING" – "Quarterback Boyfriend" — Mike is so impressed with Greg, Mandy's
new boyfriend and the high school star quarterback, he offers him a job at the Outdoor Man under
Kyle's supervision. But when Mandy realizes Kyle is covering for him on the job, she takes a second
look at both Kyle and Greg. Meanwhile, Kristin tries to figure out her relationship with Ryan, on "Last
Man Standing," FRIDAY, FEBRUARY 8 (8:00-8:31 p.m., ET).
"MALIBU COUNTRY" – "Adventures in Babysitting" – In order to keep her from losing her deal with
the record label, Reba agrees to collaborate with superstar bad girl singer Shauna, who demands
to move into Reba's home for awhile in order to get to know her better. But her bad habits start to rub off on the kids when she asks Cash to buy her some alcohol and encourages June to stop being so dependable. Meanwhile, Lillie Mae begins to think that Reba doesn't miss her when she moves into Kim's house for a few days after agreeing to housesit for her, on "Malibu Country," FRIDAY, FEBRUARY 8 (8:31-9:00 p.m., ET).
"SHARK TANK" – "Episode 415" — The successful entrepreneur and creator of the CitiKitty cat toilet training system (Rebecca Rescate from Florence, NJ) returns with a new business idea combining the comfort of a pillow with a favorite piece of clothing. Also, two men from Austin, TX are willing to give the Sharks a 100% stake in their hand-held cooler business; a woman from North Hollywood, CA believes the Sharks will make a lot of green with her environmentally friendly dry cleaning bag; and two recent college graduates and baseball players from San Francisco, CA hope the Sharks bite on their idea for an alternative to chewing tobacco made from coffee grounds. From Season 1, entrepreneur Tiffany Krummins, creator of Ava the Elephant medicine dispenser, gives an update on her latest product, a thermometer sticker for children, on "Shark Tank," FRIDAY, FEBRUARY 8 (9:00-10:01 p.m., ET).
Next page: Week of February 10…