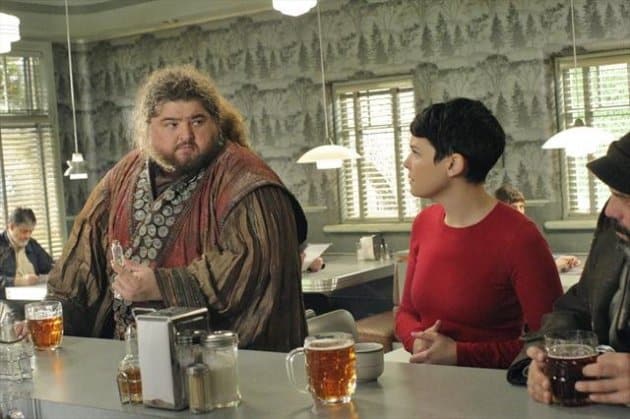 February 10 – February 15
"AMERICA'S FUNNIEST HOME VIDEOS" — "Episode 2313" — This week's highlights include videos of a determined teenager who repeatedly attempts a handspring with hilarious results, a package of cats and dogs making mischief together, a foolhardy doctor who tries to pop a wheelie in a wheelchair, and Tom playing "Head, Gut or Groin?," on "America's Funniest Home Videos," SUNDAY, FEBRUARY 10 (7:00-8:00 p.m., ET).
"ONCE UPON A TIME" – "Tiny" – Kidnapped and brought to Storybrooke by Cora, the Giant (Jorge Garcia) unleashes his vengeance on the town when a case of mistaken identity leads him to try and settle an old score with David; Mr. Gold, accompanied by Emma and Henry, attempts to depart Storybrooke – hoping to keep his memory intact when he crosses the town line — and heads to the airport in search of his son, Bae; and Greg (Ethan Embry) questions Belle as to what she saw on the night of his car accident. Meanwhile, in the fairytale land that was and against his brothers' wishes, Anton, the Giant, climbs down the beanstalk and attempts to befriend some humans – whose intentions may not be so noble — on "Once Upon a Time," SUNDAY, FEBRUARY 10 (8:00-9:00 p.m., ET).
"REVENGE" – "Union" – Emotions run deep when Jack and Amanda's wedding reminds Emily of what could have been. Meanwhile, things for Daniel get complicated at Grayson Global, and Conrad begins a new chapter, on "Revenge," SUNDAY, FEBRUARY 10 (9:00-10:02 p.m., ET).
"THE BACHELOR" – "Episode1707" — The pressure mounts as the crucial hometown dates loom, but first Sean and the remaining six bachelorettes travel to the beautiful Caribbean island of St. Croix. One woman boldly decides to reveal a shocking fact about her past on a one-on-one date with Sean, even as she fears it might ruin their relationship. Another bachelorette goes toe-to-toe with the Bachelor about the tension surrounding them, and she pulls out all the stops by declaring her love for him. And still another woman makes a crucial decision not to tell him she is falling in love with him. Sean invites his sister to St. Croix to help him sort through his feelings, and once he does, he drops two bombshells, leaving four women who will take him home to meet their families, on "The Bachelor," MONDAY, FEBRUARY 11 (8:00-10:01 p.m., ET). Chris Harrison hosts.
"CASTLE" – "Reality Star Struck" – Castle & Beckett get an up-close-and-personal view of a "Real Housewives"-esque reality TV series, "The Wives of Wall Street," when they investigate the murder of the show's rising young star. Meanwhile, Castle's attempt to give Beckett a Valentine's Day gift goes horribly wrong, on "Castle," MONDAY, FEBRUARY 11 (10:01-11:00 p.m., ET). Gina Torres ("Suits," "Firefly"), Gail O'Grady ("Drop Dead Diva," "Desperate Housewives"), Lachlan Buchanan ("Pretty Little Liars") and Heather Ann Davis ("The Lake") guest star.
"THE TASTE" – "Daring Pairings" — Two have been sent home, and 14 competitors remain on this week's episode of "The Taste." In the team challenge, each team is given five unique ingredients from which to create the most delicious dish for mentors/judges Anthony Bourdain, Nigella Lawson, Ludovic Lefebvre and Brian Malarkey. One contestant will be granted immunity for the "daring pairings" individual round of the competition, when the contestants must prepare a dish that pairs best with a selection of decadent wines to please the judges' palates in a blind taste test. Which two cooks will be sent home this week? "The Taste" airs TUESDAY, FEBRUARY 12 (8:00-9:00 p.m., ET).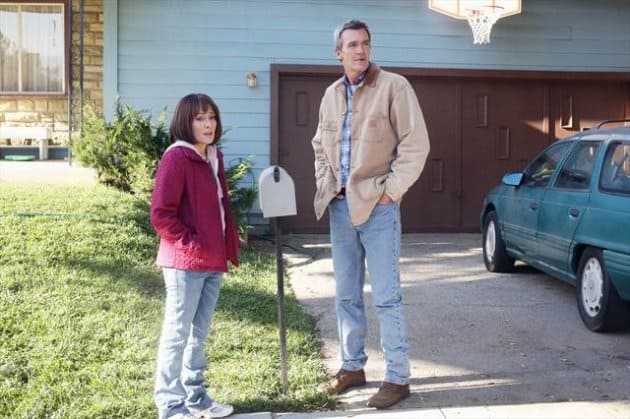 "THE MIDDLE" – "Valentine's Day IV" — As Valentine's Day approaches, Axl takes Boss Co., with partners Sean and Darrin, to the next level by offering their services to help guys break up with their girlfriends. Meanwhile, Brick becomes upset with Frankie when he discovers that she has thrown out all of the school artwork he has made over the years; Sue is thrilled when ex-boyfriend Matt invites her to the school's Valentine's Day dance, and Mike accidentally sends a romantic text meant for Frankie to a co-worker at the quarry, on "The Middle," WEDNESDAY, FEBRUARY 13 (8:00-8:30 p.m., ET).
"THE NEIGHBORS" – "Mother Clubbers" — After Debbie fears she's lost her looks and Jackie discovers that on Earth she's considered a "10" (back home Larry Bird was the pretty one), they end up in Hell (literally), a hip new club, hoping to feel a little more like desirable women and a little less like moms, in this episode that airs as part of ABC's Wednesday comedy Valentine's Day salute. Meanwhile, Marty and a deflated Larry Bird look to Amber to help them makeover their drab appearances, on "The Neighbors," WEDNESDAY, FEBRUARY 13 (8:30-9:00 p.m., ET). Michael Bay appears as himself.
"MODERN FAMILY" – "Heart Brocken" — A fun Valentine's Day romp between Phil and Claire's alter egos, Clive Bixby and Juliana, takes an unexpected turn that lands Claire in the hospital and with a diagnosis that she doesn't take lying down. Meanwhile, Gloria and Jay's attempts to be romantic keep getting interrupted by the kids, which drives Gloria crazy, and Cam and Mitch host a wild Valentine's Day Lonely Hearts Party that leaves them hung over the next morning, trying to piece together what happened and, more importantly, why Dylan is now living with them, on "Modern Family," WEDNESDAY, FEBRUARY 13 (9:00-9:31 p.m., ET).
"SUBURGATORY" – "Blowtox and Bowel Chips" – When Tessa convinces Ryan to attend an art house movie with her on Valentine's Day, their reactions to the movie surprise her. Sheila's mother, Gam Gam (Mary Kay Place), pays the Shays a visit, causing friction between Fred and Sheila. Her visit also spurs Sheila to try to get Malik back together with Lisa. Meanwhile, Dallas has a bad reaction to a cosmetic procedure, and George has to enjoy an 18-course meal from renowned Chef Julio (Michael Voltaggio) solo, on "Suburgatory," WEDNESDAY, FEBRUARY 13 (9:31-10:00 p.m., ET).
"NASHVILLE" – "There'll Be No Teardrops Tonight" – Rayna finds comfort in the arms of an old friend after revealing to Daphne and Maddie her plans to divorce. Juliette is invigorated by the response to her new sound and takes steps to reinvent herself — against the guidance of her management. Things are looking up for Scarlett and Gunnar when Rayna makes an offer to sign them to her label. While their hard work begins to show signs of success, Avery struggles to find his old sound and is forced to consider an attractive offer, on "Nashville," WEDNESDAY, FEBRUARY 13 (10:00-11:00 p.m. ET). Kimberly Williams-Paisley guest stars as Peggy.
"ZERO HOUR" – SERIES PREMIERE – "Strike" – It's a race against time for Hank Galliston (Anthony Edwards) after his wife, Laila (Jacinda Barrett), is abducted by the international terrorist "White Vincent" (Michael Nyqvist.) As the publisher of a paranormal enthusiast magazine, Modern Skeptic, Hank has spent his career debunking myths and investigating conspiracies. Now, seemingly out of nowhere, Hank is thrust into the middle of one of the biggest conspiracies in human history, sparked by his wife's discovery of an antique clock at a Brooklyn Flee Market — a clock that possesses much more than the power to tell time. With help from FBI agent Rebecca "Beck" Riley (Carmen Ejogo) and his two young magazine staffers, Rachel (Addison Timlin) and Arron (Scott Michael Foster), they set out on a journey to find Laila, but soon find their mission is much bigger than just saving one woman, on "Zero Hour," THURSDAY, FEBRUARY 14 (8:00-9:00 p.m., ET). Charles S. Dutton guest stars as Father Mickle.
"GREY'S ANTATOMY" – "Hard Bargain" – As the hospital spirals closer to financial ruin, Owen must make some tough decisions, which includes foregoing an expensive surgery that could save the life of a child. Meanwhile, Alex and Jo work together to save the life of an infant, and April asks Jackson for dating advice, on "Grey's Anatomy," THURSDAY, FEBRUARY 14 (9:00-10:02 p.m., ET). Guest starring Constance Zimmer ("Entourage") as Alanna Cahill.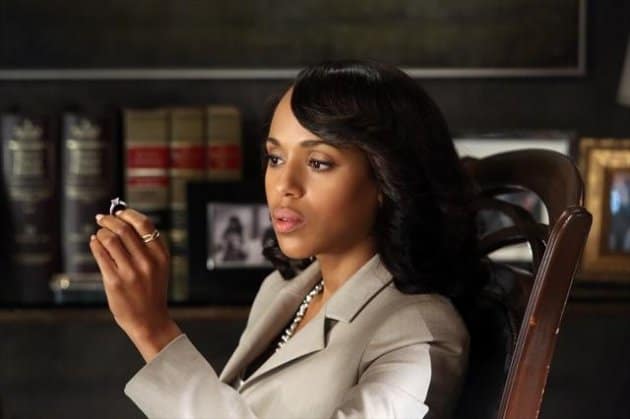 "SCANDAL" – "Whiskey Tango Foxtrot" – After discovering the truth behind defiance, Fitz is still struggling to figure out whom he can actually trust. Meanwhile Olivia is trying to move on with her life, and she meets a handsome stranger, Jake Weston (Scott Foley), who sparks her interest. But when Fitz and Olivia are forced to be in the same room again, real sparks fly and things get heated. Back at Pope & Associates, the team handles a new case, and for the first time they're working with David Rosen instead of against him, on ABC's "Scandal," THURSDAY, FEBRUARY 14 (10:02-11:00 p.m., ET). Scott Foley guest stars as Jake Weston.
"LAST MAN STANDING" – "What's in a Name?" – When Mike finds out his grandson Boyd is no
longer registered at school as a Baxter, Kristen tells him Ryan is recommitted to them and wants
their son to start using his last name. Meanwhile, Mandy, Kristin and Eve reunite the Inglorious Baxters in hopes their Valentine's Day music video will go viral, on "Last Man Standing," FRIDAY, FEBRUARY 15 (8:00-8:31 p.m., ET).
"MALIBU COUNTRY" – "Babies Having Babies" – Reba and Lillie Mae put their plans for a weekend getaway on hold when their neighbor makes a confession that stirs things up for the entire family and shakes Kim's confidence in her abilities to be a good mom, on "Malibu Country," FRIDAY, FEBRUARY 15 (8:31-9:00 p.m., ET).
"SHARK TANK" – "Episode 416" – Three brothers from Boise, ID hope the Sharks can envision investing in their family business — one-of-a-kind eyewear made from sustainable wood; and a man from Madison, MS, enters into muddy waters when he asks the Sharks to invest in his camouflage clothing line designed for duck hunters. Also, sorority sisters from Dallas, TX hope the Sharks find a perfect fit for their premium denim line, and a pair of Southern Belles from Loganville, GA, try to charm the Sharks into investing in their high end bedding for little girls. Pat McCarthy from St. Charles, IL, who declined an offer from Daymond in Season 3, gives an update on Liquid Money, a line of his & her fragrances inspired by the scent of money, on "Shark Tank," FRIDAY, FEBRUARY 15 (9:00-10:01 p.m., ET).
Next page: Week of February 17…