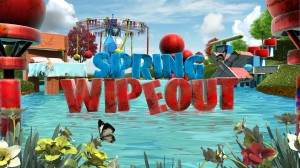 The ABC game show, Wipeout, is currently casting for its next season. To celebrate the casting call, ABC has offered a copy of "Wipeout: The Game for Wii" to TVOvermind to give away to one of our readers.
If you would like to audition for Wipeout, you can find all of the instructions here. U.S. residents over the age of 18 can send in their information to be considered for an audition.
Here's the description of the Wii game:
"Play the Show! Run, jump and climb on the most ridiculous obstacle courses ever created. Players will use speed, balance and precision timing to climb past the Sucker Punch, run over the Big Balls and perform spectacular wipeouts. Prove you have what it takes to make it all the way through to the grand finale Wipeout Zone, score the fastest time and earn the most Wipeout Points for your chance to be the champion. This game aims to bring the crazy Wipeout experience into the living room by creating a fun and challenging video game version that the whole family can enjoy!"
Here are the contest details:
One winner will receive a copy of "Wipeout: The Game" for the Wii entertainment system.
Contest open only to residents of the continental United States (sorry, international readers!)
To enter, email me at clarissa [at] tvovermind.com and write "Wipeout Contest" in the subject line. Please provide your name, city and state in the email.
The contest will run until 5:00 p.m. on Sunday, May 22. The winner will be notified by email and will be asked to provide their full address so that ABC can mail out the prize.

If you want to learn more about the game, view the trailer below. Good luck! Wipeout airs on ABC on Thursday nights at 8:00 p.m. ET.
clarissa @ tvovermind.com
twitter.com/clarissa373
twitter.com/tvovermind