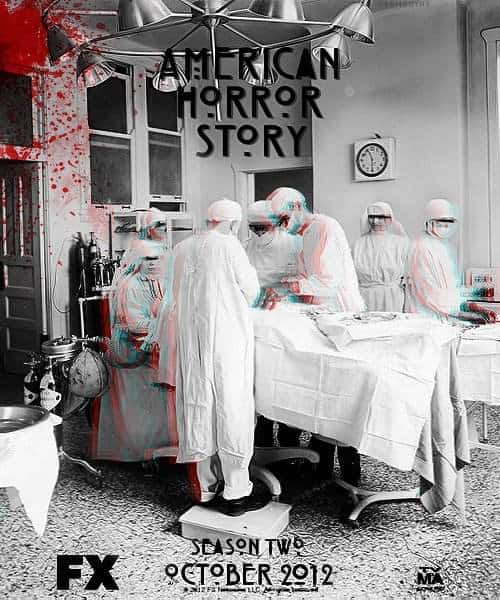 Update! Dread Central, along with several other sites, have reported this poster to be fake and fan made. So much for my excitement… Although, the artwork was amazing at least.
Promotion for American Horror Story Season 2 has officially started and my excitement reached insane levels when the first promo poster was revealed earlier yesterday.
The black and white poster, which is in 3D, depicts a group of doctors operating over someone (or something) in a sterilized hospital room. The floor looks pretty weird for an operating room and the doctors have the company of what seems to be nuns in the room as well. Plus all the people in the picture have a black bar (ala TV censors) covering their eyes, which amps the creep factor up times 100. What the hell could it all mean?
Well for starters, we know now that a hospital, most likely a psychiatric institution/asylum, will be involved. This confirms Ryan Murphy's carefully selected answer from Monday night's Watch What Happens Live! appearance where he answered a couple of questions about American Horror Story's second season. Other than confirming Jessica Lange's return to AHS in the fall, Murphy also revealed that the scares would take place in a "horror institution" this time around. Could Vivian's stay at the asylum have been part of the clue Murphy was talking about implanting in the last few episodes of the Murder House season of American Horror Story? Perhaps somewhere in Florida maybe?
With the second season of American Horror Story possibly taking place in a mental institution or hospital, several horror movies pop into my head, such as the House on Haunted Hill remake, Hellbound: Hellraiser II, Session 9, even Gothika. Let's hope American Horror Story will raise the bar on the genre by blowing our minds with whatever topic Ryan Murphy and Brad Falchuk have up their sleeves this year.
So what do you guys think about the poster? What are your thoughts about what Season Two might entail? And does anyone have a pair of 3D glasses they are not using?