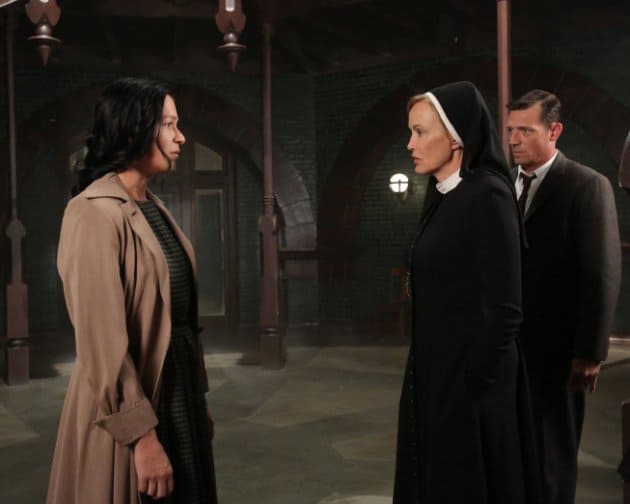 FX has officially renewed horror anthology series American Horror Story for a third season of 13 episodes. The only information about the third season that has been released is that it will feature the return of Jessica Lange, who played demented southern belle Constance in season one and currently portrays guilt-ridden Sister Jude in season two. Anything in the way of other returning actors, setting, and title change has yet to be revealed.
It was announced last season that each season of American Horror Story will be a completely different show, only the cast of actors providing a sense of continuity. Even then, there have been actors that didn't make the transition from season one to two (Connie Britton, Taissa Farmiga) and actors that have only popped up in season two (James Cromwell, Franka Potente), though there are several that have been in both and will presumably be a part of the third season in some form or fashion.
Currently on American Horror Story, three of the inmates have made it out of the asylum, though all three are in danger. "Nymphomaniac" Shelly, physically and psychologically marred by her time with Dr. Arden, was released onto a schoolyard, while Kit's taped confession has landed him behind bars and Lana is trapped in Dr. Thredson's home with the corpse of her girlfriend Wendy. Will any of the three live to see the final episode, or are they all fighting a battle against corruption and pure evil that they simply cannot win?
American Horror Story: Asylum airs Wednesdays at 10:00 on FX, with the finale airing January 23rd. You can check out a recap of last night's episode, which revealed the identity of (1960's) Bloody Face, here, as well as the TVOvermind American Horror Story discussion forum here.
What did you think about the reveal of Bloody Face in the last episode? Do you think that Lana will be able to escape his lair and tell the story of her Briarcliff experience? For the upcoming third season, what setting would you like to see and what actors do you think should join Lange in returning?