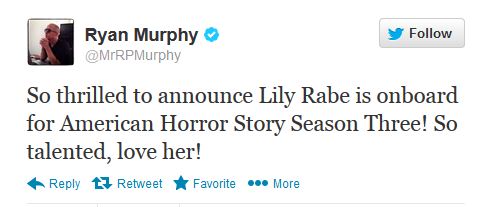 American Horror Story boss Ryan Murphy has announced via Twitter that Lily Rabe will be returning for season three.  Rabe joins Jessica Lange, Sara Paulson, and Evan Peters as recurring cast, but, as always, each will play a brand new character forged specifically for the new story.
And what about the new story?  Well, there are rumors it will have something to do with the South, and if you buy into my "Easter" AKA Zombie Jesus theory it could even have something to do with resurrection.  Murphy has been very selective and purposefully vague with the hints saying only it would be more historical in nature, will take place over multiple differing locations and times, and will be funnier. Murphy said at a Q&A that Peters would revert to playing a sobbing psychopath, and that the season story will have an iconic big bag ala Rubber Man and Bloody Face, but this time it will be a woman.
As far as future casting is concerned, expect some season one cast that was absent from season 2 to return.  At least some of the new cast members will be custom picked to compliment Jessica Lange.  Murphy expressed that he was feeling a bit nostalgic for Constance, and elsewhere it has been eluded that we will see Lange playing an evil character.  Spooky.