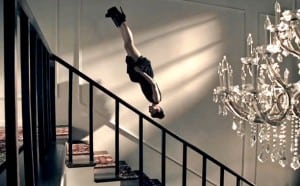 I really loved the first season of American Horror Story.  It struck a great balance between scares and shocks, and the cast for the show was pretty much perfect. But then the second season happened, and it really turned me off. It felt like a genuine mish-mash of them TRYING to be shocking, and the overall effect watered down the impact of the story. Tonight the new season begins, and I can't tell if I should be pumped up for it, or if I am just gearing myself up to be let down.
American Horror Story: Coven will be premiering tonight at ten on FX, and I am really on the fence about it. While I know I will watch it, my fear is that it will be more like last season than the first. The problem with the second season was they just tried to be too many things. Ghosts, serial killers, aliens, zombies, Nazis, the Devil, time travel, and the list goes on and on. I believe the environment of the second season is what made them want to jam so much into it. An Asylum is an easy place to hide evil. But with Coven, I am hoping the story is more centrally focused (like how the first season focused on the main family), rather then just tossing two hundred story lines at us at a time.
I will be tuning in to FX tonight at 10 to find out if this season of American Horror Story can live up to the first. Or maybe it will just try too hard to be everything to anyone, like season two. Will be back tomorrow to give my initial thoughts.
Happy haunting, people.