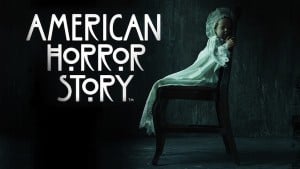 I have a very strange relationship with American Horror Story. I adored the first season, finding it to be gritty and very disturbing, really pushing the envelope for what we saw in American horror television. But then season two of American Horror Story happened, and well, they lost me. It all got a little too convoluted for me, to be honest. But even then, I still greatly admire what the show tries to do and just how far it tries to go. And now I have a teaser poster to remind me that season three is getting ready to drop, at any moment, and it is looking to make hisssstory. That hissss will make sense after you see the pic.
Thing is, I won't actually post the picture here because it is a bit, well, lewd, but if you really, REALLY want to see it, you can click here. TVLine has the story in full, as those of you who click the link will see. So what is so bad in that picture that we are not posting it. Well, I have always thought the best horror was usually the unspoken stuff in our minds. So how do YOU imagine the poster? Do you think it is worse in real life, or the way YOU imagine it?
I can safely promise you a few things, the real poster is nothing like you are imagining.
It is a bit more risque, I can assure you of that. But it is effectively unsettling, and sets the tone for the horror show, hinting that witches may not be the only thing we need to look out for this season. If season one was the test run, and season two was full speed (one trauma after another), then what should we expect from season three of American Horror Story?
Well if that poster is any indication, some pretty awesome stuff that may push the envelopes even FURTHER.