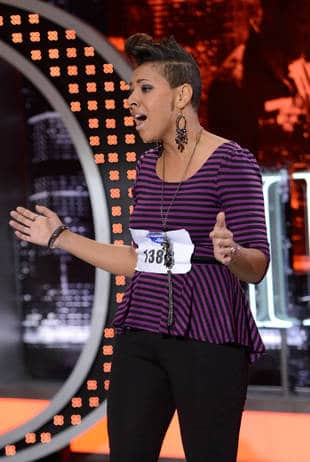 The first time we saw Zoanette Johnson in the Oklahoma City auditions, her unhinged behavior and somewhat creative shredding of the National Anthem got her through as somewhat of a novelty contestant.  I'm not sure anyone expected her to get to the sudden death round of American Idol, except herself, and surely no-one seriously expected her to survive to be one of the finale five female contestants, but she did just that.
After weeks of maintaining her gonzo style and demonstrating little in the way of consistent performance skills, Zoanette pulled it together for a powerful performance of The Lion King's "Circle of Life".  It's not that Zoanette doesn't have apparent talent, it's just that her Hyde side seemed to be her biggest drawback and she finally proved, in the nick of time, that she can keep it under control.
Of course of the final ten, Zoanette was probably the only one who was questionable in the singing department, so you know that means someone a little more 'stable' had to take a fall, but when you get the final tally of who went home and who remains as the top five ladies you might be a little shocked.  Like me.  Let's recap.
Candice Glover seemed to have her place on American Idol carved out for her.  This is her second time deep in the competition and it is really difficult to imagine how she didn't make it into the competition before.  If there was ever a time that song choice sealed the deal for a contestant it was this night, and this contestant.  Glover delivered a cover of A Natural Woman that blew the roof of the place and locked down with her flawless vocal energy from beginning to end.  Candice will be a tough one to beat as the eliminations are passed from the judges to the viewers.
Janelle Arthur, who has also been a standout on this season of American Idol, risked it all with a tepid cover of Lady Antebellum's "Just a Kiss".  This is a song that overall has a somewhat simplistic melody to begin with, and Arthur's deviations seemed cautious.  It was not a performance that rocked the judges at all and frankly I'm a little surprised she survived sudden death.  It's possible her previous performances, some of which were unbelievable, got her a pass here—even though that's not remotely what "sudden death" means.
Breanna Steer and Aubrey Cleland rounded out the final five ladies that will compete for the title of American Idol.  Neither of them have received much focus on this season of Idol, and that made for a pleasant surprise in the form of Aubrey Cleland.  It's strange to be finding a new favorite at this stage in the game, but Aubrey really impressed and seems like someone who will play quite well with American Idol's voting audiences.
Obviously when you've cut the pack this much already you are going to wind up with 10 exceptionally talented performers and some of the cuts will be questioned, but in particular  I think you exchange Cristabel Clack, and Melinda Ademi with any two of the final five and the girls would be just as competitive this season.  Cristabel in particular has an immediately identifiable style, and Melinda's earnestness is infectious.  Rachel Hale, Jett Hermano, and certainly Juliana Chahayed will have some fans espousing sour grapes in the weeks to come for sure.
Overall, what are we going to do?  We are stuck with the judge's picks, but this time it seems in a few places they got it very very wrong.  Tomorrow the Men will be put through the wringer and five will suffer a similar fate while five will go on for their shot to become American Idol.