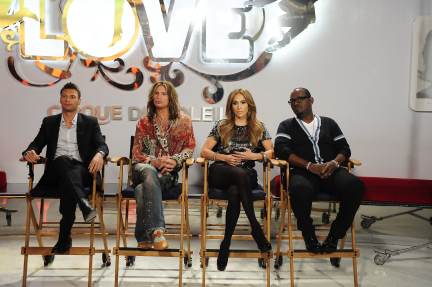 American Idol kicked off season 10 below its season 9 premiere numbers, but FOX is still probably very happy. American Idol peaked in its last half hour at a little over 27 million viewers, rising steadily from the 23 million that kicked off the broadcast at 8pm. The hype over the new judging panel of Aerosmith's Steven Tyler, pop diva Jennifer Lopez, and American Idol senior Randy Jackson failed to deliver a record breaker – but with these strong numbers the Premiere probably eased nerves over Idol's post-Paula post-Kara post-Ellen and – more importantly – post-Simon marketability. For the downside, I defer to the number crunchers at TvByTheNumbers:
The 10th season of American Idol premiered down 18% among adults 18-49, drawing a 9.7 rating compared to the 11.8 rating for last year's Tuesday premiere. Idol's 26.1 million average viewers was down 13% from last year's premiere 29.945 million. That's more than the 10-15% seasonal ratings decline that has been typical in recent seasons.
As for the effect on the competition, it doesn't look like American Idol is killing anybody, yet. The Middle took a big hit dropping 2m live viewers in the shadow of American Idol but remains viable, while TheCW's Hellcats repeat was nearly wiped out bringing in a scant 800k viewers – previous repeats for Hellcats had brought in around 1.8m viewers. Modern Family persevered with over 11m viewers. Criminal Minds was not entirely unphased, but at 11m viewers I doubt you'll hear too many complaints for ABC. Off the Map, which was not in the path of American Idol, dropped below 6m live viewers on its second outing – the talk will be that it is 'on the bubble,' but renewal seems entirely unlikely at this point.
American Idol will return for another two hour block tonight. The tidal wave of positive press for the new judge panel's performance could result in an uptick, we'll find out tomorrow if American Idol manages to sustain that upward trend back into season 9 – or earlier – numbers.