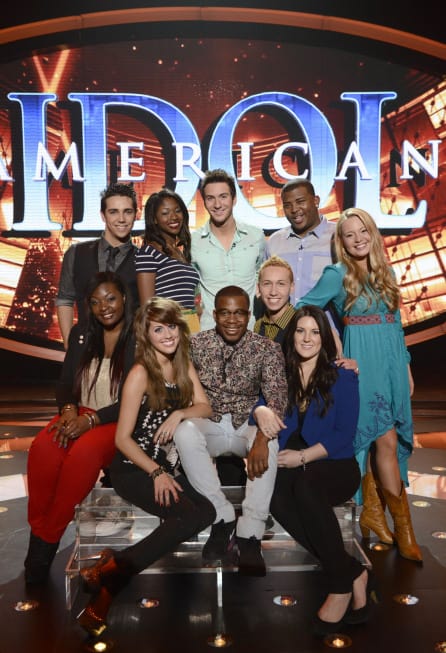 A couple of days ago we mused over whether the American Idol save should ever be used (American Idol – Who, if anyone, is Worthy of the Save) and if so on who?  Strangely, as we kick off this recap, that very article becomes apropos.  This week's Idol featured a male heavy bottom three, with a shocking female addition, and ending that was no shock to readers of our thesis.  Let's get into the American Idol recap.
The show kicked off with some candid footage of Jimmy Iovine acting like a complete douchebag, tearing into a poor studio assistant for not having a microphone on and threatening to fire the kid.  Knowing he is being captured acting like a douche, Jimmy turns to the camera and says "Put that on your [expletive deleted] show!"  Drama.  I can't figure out what Idol is trying to accomplish with this.  Maybe Jimmy thinks he looks too nice on TV.  What's next, he demands to be addressed as James, or Mr. Iovine Esq.?
Jimmy then discusses Beatles night and has more harsh words for the judges than the contestants.  He believes the performances were all over the place, from brilliant to horrible, but his biggest complaint is that the judge's were too complimentary.  Agreed the judges were soft, but they hardly gave everyone a pass.  Apparently Jimmy is a big believer in tough love.
Ryan pulls Amber out for the first results but winds up sending her back without giving ANY information on her standing whatsoever.  We do get treated to a cool blooper reel that shows Amber having some problems with the fog machines and stumbling on the stairs during rehearsal.
The guys do a group number of The Beatles' "Got to get you into my life" that is really good vocally, but the choreography was flat.  Good thing this isn't Dancing With the Stars.  After the number, Ryan pulls aside Paul Jolley to let him know that his hometown has declared a Paul Jolley day, and that he is in the bottom three.  Pretty surprising.
Casey Abrams appears to do a spirited rendition of "When I Saw Her Standing There".  It might just be me, but Casey appears to have matured a lot musically since he appeared as a contestant.  His vocal is raspy and on-key, as expected, but it appears nuanced.  After the performance Keith leads a standing ovation and tells Casey he's going to Hollywood.  Sadly there is no gold ticket to punctuate the joke.  (Badly).
The girls take their turn at a group number with "Here, There, Everywhere," and I must confess I think the boys badly out shined the girls tonight. I get that if we are following the hype we should be talking about how phenomenal the ladies were, but they looked bored and there were no wow-moments in this performance. Flat.
After that Ryan brings Devin out and tells him he is in the bottom three.  Not too much of a surprise here considering his placement last week and lackluster performance last night.
Jessica Sanchez and Ne-Yo perform her new single after we are treated to a catch-up video.  Sanchez received the save during her American Idol tenure and went to the finale, and look at her now — doing a duet with Ne-Yo.  She's definitely a case for the save.
After some pomp and circumstance Amber Holcomb is shockingly announced as the last person in the final three.  When the judges are asked if America got it right, the boys get no love with everyone basically saying that Amber did not belong.  Ultimately the person eliminated and singing for the save is:
Paul Jolley.  And if you read our proposal on the save you know we think he wouldn't be worthy of the save for the simple reason that he has nothing left in his bag of tricks to seize the opportunity and do a Sanchez with it.  After her save, Jessica Sanchez stepped up her game in every way possible and nearly won the contest.  Paul has been giving it all he's got for the beginning.  Paul is a powerful talent who has a bright future ahead of him, but the Idol judges did not give him the save.
Amber being in the bottom 3 is definitely a shock, but I can't say I'm overwhelmingly surprised due to her performance this week.  She did seem uncomfortable, and I think generally all of the contestants had a shocking lack of Beatles knowledge.  Who do you think will bottom out next week?