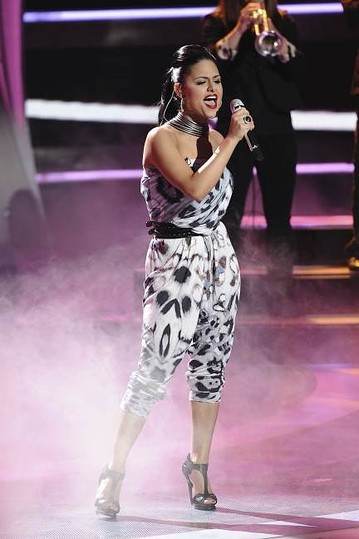 Wow. Just. Wow. American Idol had me on the edge of my seat tonight with a surprising bottom three and an elimination that surely sent a message to the competitors: listen to the judges. The American Idol hopeful sent packing this week was told again and again to expand their song genre, and to step up their on stage performance, and again and again the audience booed their suggestions. Well, as it turns out these three – Steven Tyler, Jennifer Lopez, and Randy Jackson – actually know what they are talking about. First let's talk about how the bottom three came together.
As usual, the bottom three was built from groups marched onto the American Idol state to endure Ryan Seacrest's cruel pauses and deceptive inflection. Casey Abrams, Stefano Lagone and Lauren Alaina were the first group up, with Stafano taking his place as the first in the bottom three. No surprises here, but hang on to your hats: American Idol's results show got downright wild from there.
Paul McDonald, Scotty McCreery, and Pia Toscano were up next. After last week's results, and last night's performances, this seemed like an easy call. American Idol tends to have a bit of overlap from week to week when it comes to the bottom three, so it seemed like Paul would be joining Stefano – but no, it was Pia. That's right. Pia. But hold on, things keep getting crazier.
James Durbin, Haley Reinhart, and Jacob Lusk were next – and after Lusk's bizarre comment about America needing to reflect a little it was not entirely surprising that he became the final member of the bottom three. Still, Lusk was a fresh face and the move indicated that Haley, has been in the bottom three, is beginning to pull ahead. Does she owe Lusk's comments? And why do American Idol contestants keep running afoul of Michael Jackson this season? Durbin's "Pepsi Moment," Lusk's Man in the Mirror statement? Sheesh.
So elimination time. The clues from the first paragraph are probably pretty clear, it was Pia that was eliminated. I'm not unhappy, but I am shocked none-the-less. I saw her as a final-five material at least, but the amazing generic quality and lack of dynamics kept me from seeing her as a winner. She has a great voice, but its the voice of hours of vocal coaching – not a voice of experience and emotion. Steven Tyler blamed the audience saying that America's "lack of passion was unforgivable," but ironically that is essentially what the judges have been saying to Pia all season. Her addiction to ballads and her limited stage presence made her into something slightly more vivid than a wallflower amongst the competition, and for the judges to show shock after delivering that feedback for weeks is a little perplexing.
One thing is for sure, with a major vocal talent eliminated this is officially anybody's game at this point. But for those keeping track, here are the remaining American Idol contestants:
Casey Abrams – Casey has a fantastic style but his performances run hot and cold. He's been in the bottom three before, was eliminated, and received the Judge's only save of the season. He'll have to be consistently great to win.
Haley Reinhart – Haley has been in the bottom three, but continues to improve week after week. She's incorporating feedback from the judges and wowing the audience – she could pull a legitimate underdog win.
James Durbin – Durbin is a great rocker, we'll see how he holds up. Rockers go far on Idol, but rarely win.
Jacob Lusk – This season's soul man has seemed to hit that invisible barrier in the march to the finale five. He has half of the charisma of George Huff, and will probably hit the wall in the next couple of weeks.
Stefano Langone – Stefano is on his way out. Sorry, but it's going to happen and soon.
Lauren Alaina – The "chosen" one continues to be a stunner. Can she go all the way?
Paul Mcdonald – All of Paul's charms have become more and more forced and put-on as time goes by. The routine may work when your touring club to club, but Paul's on the same stage, channel, and show every week and his schtick is becoming downright annoying.
Scotty McCreery – Everything that critics considered his limitations have become his strengths, and his popularity is off the charts. Scotty will make it further than any other overtly country styled male on American Idol, but can we win? By the time we reach the finals, the enormous American Idol crowd may not split favorably for Scotty's twang.