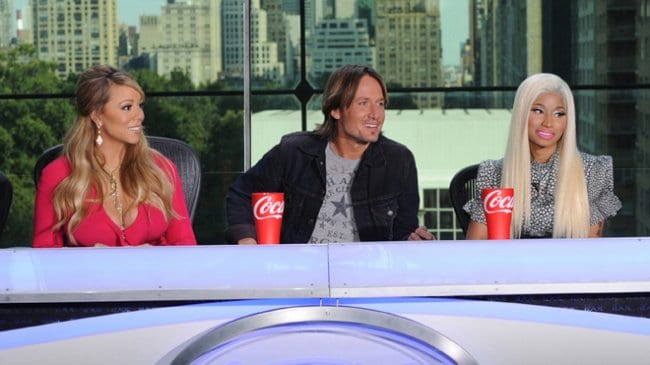 Nicki Minaj took some time to talk to the press today, but wound up raising more questions than giving answers;  for starters:  When is American Idol getting real?  Minaj talked to reporters about the contest in almost fatalistic terms, and in many ways seemed to be continuing the narrative set out as early as the auditions.
Minaj has always seemed ferociously independent, but whether that ferocity is an actual character trait or merely a marketing point came into doubt during the call, particularly on one point:  whether a male has any chance of winning American Idol this season.
The truth is, phenomenal female talent has always fallen before inferior guys with guitars.  This probably reflects as much on the viewing demographic and anything, but certainly the trend towards male winners over the past years, men who often did not reach the talent level of the girls it is worth noting, has even the fans wondering when is American Idol going to crown another girl winner.
This year, though, the prospect of a girl taking the title of American Idol has been predicted seemingly from the beginning.  It's unsure exactly what the point of it is, but the Judge's have almost seemed unified in their prediction that a girl could win, and arguably have eliminated some fairly strong guys along the way.
So with that in mind, when Minaj responded to the question of whether a guy could with an emphatic "Absolutely not.", it seemed more like she was towing the company line then being the maverick she claims to be.
The truth is, there is no way of predicting how American Idol will turn out from season to season, and it seems almost sad to say that the talent of the contributors is the least determining factor, but that often times seems to be the cast.  On the other hand, the question of when is American Idol ever going to be strictly about the singing talent;  maybe when the judges stop shilling for the producer's pet contestants—regardless of gender.