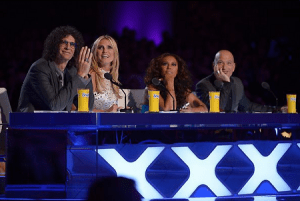 I have been feeling that some of the charm of America's Got Talent has slowly worn off on me. Maybe it is all the opera singing? Maybe it is all the balancing acts that would bore me even in a circus context? Maybe it's the people who seem like they really want to get themselves killed on national television? I thought maybe I was alone in thinking this, but apparently the rest of the country does too, because last night, the show hit an all time ratings low. The irony, though, is that it was still the highest rated show of the night.
So for the three people who may not know, America's Got Talent is a, well, talent show, in which people take the stage for ninety seconds and try to impress America and the show's three judges. I am sure you can tell from that synopsis that some of the stuff we see on this show is just embarrassing, and it is. Sometimes the show feels like it puts the spot light on that one dumb kid you went to school with who would stick his tongue in a fan for a dollar. Yes, a guy actually did that as one of his acts. America's Got Issues seems more befitting.
But as mentioned, even with its lowest ratings yet, it still clobbered the competition. That may or may not have had anything to do with Robin Thicke singing his big Summer jam, Blurred Lines, live on the show. Personally, I would have X'ed him off, but that is why I am here and not a judge.