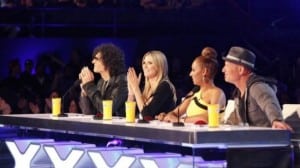 Not so sure how we feel about this season of America's Got Talent. When the whole point of your show is to breakthrough some major star, yet all your final acts are less than spectacular, do you really think they are showing us that America's Got Talent, or are they showing us that America's got some pretty standard stuff? Having been a fan of this odd variety show for many seasons now, I can tell you, this season's finals are just not that impressive, in this writer's opinion. So I need to ask, who do you guys think should win?
There is a comedian, a dancer, and a bunch of singers left. The thing is, can any of you name one of them, or what they did to get where they are? Though Kenichi Ebina is my favorite, and seems to display the most talent (he is the dancer), the other acts all feel like d-grade Vegas shows. An awkward stand-up comedian. Some kids that sing opera. And some country music covers that end up sounding like karaoke. If that sounds mean, that is not my intention, but my point is, if you guys gave a guy who does a dog act a million last year, and this year you have a bunch of finalists who will be forgotten as soon as they perform, maybe it is time call it quits?
Or maybe I am just missing something, so again, I ask: out of all the finalists left, who do YOU think should win?