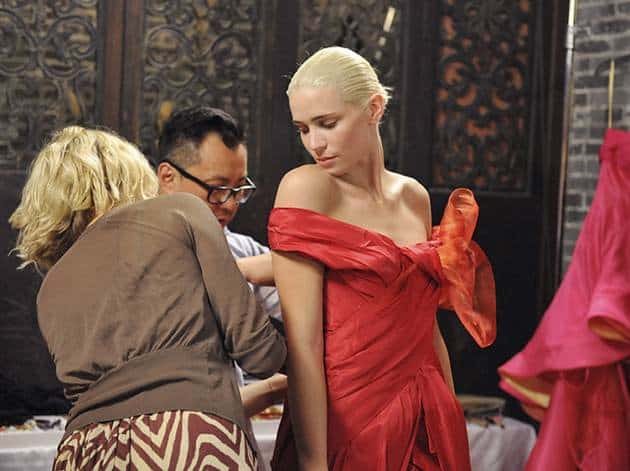 Can we talk about how Laura is just the worst?
All cycle long, I rode Kyle for how vacant her modeling was and the obnoxious praise she got for being a pretty typical Midwestern white girl, but Laura, that little devil, snuck past me. Of course, she had moments of being a bit of a spaz, seemed to be trying a bit too hard, and didn't appear to be emotionally ready for primetime, but she brought some energy to cycle 18 of Top Model and I liked that. Plus, she turned it out on more than one occasion, which is the ultimate cure-all for most reality show ails. If you do what you're supposed to do (and do it well), a little hiccup in likability can be written off, though not entirely excused. Ironically, though, it took Kyle's last episode for the veil to be lifted and Laura's mean to be broadcast in HD, a nasty, snotty attitude that you hoped was just the product of stress, competitiveness, and lack of sleep.
Judging by tonight's episode of Top Model, the Laura of a couple of episodes ago is the real Laura, as she was kind of a monster here. To the point where you had to wonder about her mental state, as the death of her friend must be hanging over her like a dark cloud of toxicity. Instead of using that tragedy as fuel for her competitive drive (or going home to deal with all the emotions that come with a sudden death), Laura has apparently went to the Jiggly Caliente School for Emotionally Scarred Reality Stars; she's wearing her experience like a loud political button across her heart, wielding the anger and frustration from the pain she endured (both as a child and recently) like a predator about to strike. Laura isn't your typical reality show villain, though. She doesn't give me fame whore vibes, nor do I think she's over-studied in the art of reality she's uncomfortably damaged and no moderately fierce photo with worms is going to tell me else wise.
Again, I'm not a huge fan of her current target (Eboni), but Laura's sour, aggressive talking heads/comments to the girl are a bit too far, even for something like Top Model, which is ready to embrace conflict wherever it happens.
But it's not like her antics ruined a good episode or anything. "Barney Cheng" had the makings of a great episode – I'm a big fan of the first Top Model international episode, if only for the different visuals and cultural immersion, and the girls headed to the small island of Macau, itself colorful, vibrant, and full of inspiration. And the guest judge, the lauded Cheng, was maybe the best of the season, not shy to give his opinion and constructively criticizing the girls he felt didn't live up to the designs.
But what went wrong?
The challenge, for one, was quite underwhelming, particularly since I liked the concept. The astrologer didn't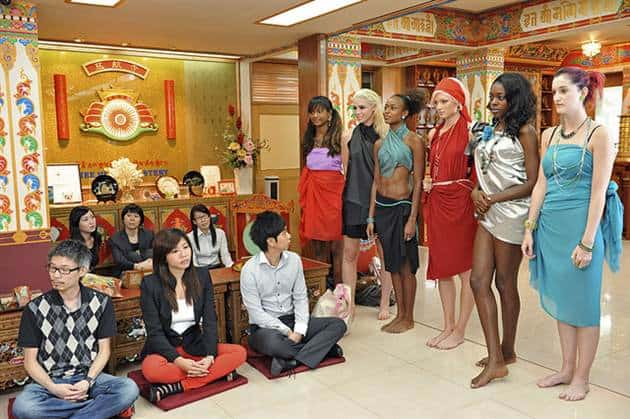 tell us anything remotely new about the girls and it seemed like he was just fed information from producers about the soft spots to hit (e.g. Alisha and her family) for maximum reactions. I didn't expect him to pull out anything too dramatic in terms of analysis, but I thought there'd be at least some insight to be gained from his readings, as opposed to the vague, Cliff's Notes casting sheet he had to go from. And the fashion part of the challenge felt a bit too arbitrary and not based off of anything we could see. I thought Laura looked nice in her simple black ensemble, but why her and not, say, Annaliese and her incorporation of two elements? What made Laura stand out as much as the astrologer thought she did? Adding a photo element to the challenge, for example, could have given it a little more dimension, as we could see the effect the clothes had on their confidence/aura. As it was, it felt like a very surface-area type of challenge, only barely skimming the local culture and the idea of astrology and the brightness of spirit.
And the photo shoot wasn't much better. Did everyone have to cry or was it just me? When I heard Jay talk about the importance of emotion reading on your face, I thought this could almost be like an acting challenge, as you had to put out some type of palpable emotion without it coming across as over-the-top. I didn't know it had to be a tearful tragedy, but that's what we got, multiple ladies going for a little woe-is-me realness and sucking whatever vibrancy their gorgeous dresses (and Macau itself) had out quite quickly. The idea of the silkworms was better than the execution, as well, because they didn't freak anybody out and they didn't allow for that much movement. Granted, the shoot focused more on facial emotion, but a part of the stiffness that people like Catherine and Alisha had in their photos felt influenced by the fact that they couldn't move as much as they normally could in a shoot. The group as a whole didn't do that hot, with Laura and Annaliese delivering the only two half decent photos in the bunch. Alisha got very insecure and posey, Catherine had no shape whatsoever, Sophie overdid the emotion and made it feel too artficial, and Eboni gave us a one-dimensional no-neck monster.
I have to say, I wasn't feeling Top Model this week. Despite the new digs and all the culture surrounding them, the ladies didn't perform that well, either in the challenge (Catherine's green lipstick), the shoot, or panel (Laura's awful tights + awful nude lipstick, Eboni's straw-like pigtails). Call it adjusting to a major change, call it poor challenge construction, I just call it an off episode that should have popped. Instead of popping, it limply plodded along until the elimination of Catherine, a once-promising contender that couldn't string together more than a couple of good weeks in a row.
Funny, that reminds me of something else.
Thoughts, Quotes, & Observations:
-"Don't get me wrong. I love a mirror."
-"Hide away, 'cause I'm about to wash up some."
-"A f-cking silkworm is sexual to this girl."
-Final Call Out Order: Laura, Annaliese, Sophie, Eboni, Alisha, Catherine (eliminated)
-Seymone talks about her elimination and time on the show with Wetpaint.
-Next week on Top Model: The ladies film an action scene with actor Nicholas Tse and endure wind and rain at their photo shoot. Top Model: Fear Factor strikes again.