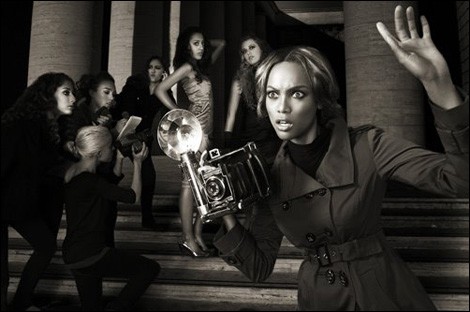 You want to be on top…of the summer fashion trends?
The CW has renewed reality stalwart America's Next Top Model for a 20th cycle. The show will be heading back to the summer schedule, however, as cycle 20 won't be premiering until the summer of 2013. Top Model began its run on UPN as a summer series, though its breakout success led to it earning a permanent spot on the spring and fall schedules for both UPN and The CW. Cycle 20 of Top Model will feature a group of male models added into the mix to compete for the title of America's Next Top Model alongside the women.
Although the reduction in Tyra-affiliated insanity to a once a year happening might not be the best news in the world, it's a decision that I think makes sense. The CW wants to expand its reach in the summer, having picked up Breaking Pointe and Oh Sit! for second seasons, and Top Model could bring the ratings stability needed to further solidify their summer schedule. After ratings went down sharply in cycle 18, they've held strongly in cycle 19 following a plethora of changes to the core of the show, an August premiere date, and a move to Friday nights. If it can handle all that, it'll be able to handle a move to the summer, especially if the judges begin gelling more and the cycle 20 direction looks to be fairly promising.
America's Next Top Model currently airs Fridays at 8:00 on The CW. You can check out a preview for the upcoming episode here, as well as my recap of the most recent episode here and the TVOvermind America's Next Top Model discussion forum here.
What do you think about Top Model becoming a summer show again? Have you found the revamped cycle 19 to be an improvement over other recent cycles? Would you make any changes to the show for cycle 20?