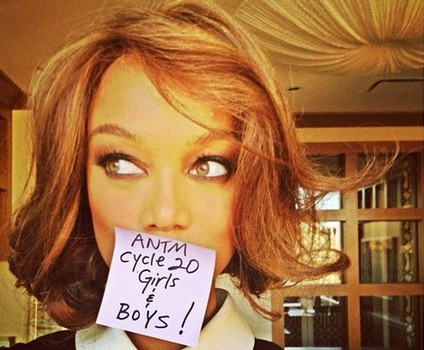 America's Next Top Model has unveiled its latest crop of contestants vying for the title of Top Model and for the first time, the competition is open to both sexes. Ranging in age from 18-26, eight guys and eight girls comprise the cast of America's Next Top Model: Guys and Girls, which will explore the similarities and differences in the roads that male and female models take to achieve their dream.
The models will be competing for a prize package that has been altered from last cycle. The winner of Cycle 20 will now be represented by Next Model Management rather than LA Models & NY Model Management and front a GUESS campaign rather than Nine West and Smashbox Cosmetics, with the "Dream Come True" campaign also phased out. Still included in the prize package are the $100,000 cash and a spread in Nylon Magazine.
Also still a part of the show is the online voting element, which turned out to be an important part of who stayed and went during Cycle 19. Voting begins today on CWTV.com and continues for the following dates: February 24, February 28, March 3, March 7, March 10, March 14, March 17, March 23, March 26, March 29 and April 3. As with Leila last cycle, an eliminated contestant will be permitted back into the competition due to strong social media scores.
America's Next Top Model: Guys and Girls premieres this summer on The CW. You can click the arrows above to check out the pre-makeover photos for each contestant, as well as general information about them. The Top Model Facebook page has polls up for all 16 aspiring models where you can vote for how you think their makeover should go.
Will you be watching Cycle 20 of Top Model? How do you feel about guys joining the cast for the first time? Who do you think is the favorite going into the competition?