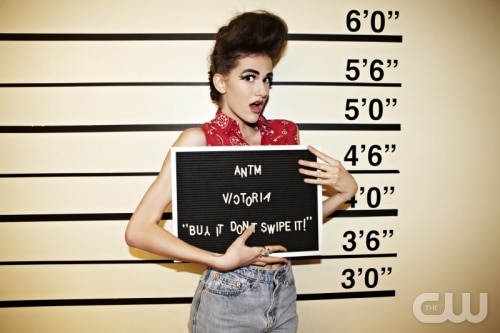 The models of America's Next Top Model are heading to prison.
But first, they have to serve some serious attitude.
The photo shoot for Friday's episode of Top Model finds the final six contestants having to put on their best trashy bad girl ensemble and work the heck out of their mug shot. It's an apropos shoot considering that the last time we saw the girls, they were licking floors and hanging over toilets at a motel in the middle of nowhere. Apparently their party girl habits have gotten the better of them and this is the next step; judging from the theme of the cycle, they might've been better off staying in college than veering off into a land of big hair, bad make-up, and jorts.
Elsewhere on the next episode of Top Model, the models will have to compete in arguably the tensest go-sees yet, as only one of them can be booked per designer yet they can book more than one designer. There's a chance that there could be a semi-even split if nobody stands out, but considering the direction that the competition has went thus far, my guess is that it'll either be a runaway or a three-horse race.
Oh yeah, and an eliminated contestant will be reinstated into the competition. So, there's that.
America's Next Top Model: College Edition airs Fridays at 8:00 on The CW. You can check out my recap of the most recent episode here, as well as my thoughts on where the top six stand as of right now here and my grades for each of the changes that Top Model implemented in cycle 19 here.
Which girl do you think comes back into the competition? Who will rock the mug shot photo shoot and bring out their inner bad girl the best? Is there a favorite going into the final stretch of the competition?
http://www.youtube.com/watch?v=FoCQy_QYJ2Q
http://www.youtube.com/watch?v=l_8Hbm1lJKA