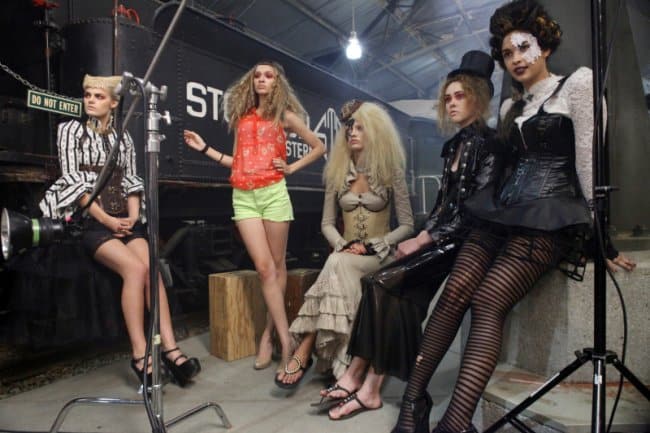 America's Next Top Model tends to keep the photo shoots that it does fairly light and fluffy. There may be an occasional high fashion shoot or a shoot that leans more on natural beauty, but for the most part, a Top Model shoot is as much about the actual modeling as it is about the girl's ability to adapt to the elements.
The next episode of Top Model, titled "The Girl Who Gets Pwn'd," will take the remaining models into a thematic area that the show has yet to explore: steampunk. Complete with a live owl and Victorian-influenced fashion, the shoot is the most high fashion of the cycle and requires a type of power that not every model remaining possesses. Currently dangling closest to the edge of elimination is Yvonne, who has a confrontation with Bryanboy in the preview for the episode, while Brittany narrowly escaped the bottom two last week and Allyssa has been hovering in the "good enough" range for quite a while.
Will any of the three go home? Or will we have another shock elimination like we had with Leila? Though it may seem like there are a few models who are pretty safe (Laura, Kristin, Nastasia), all it takes is one poor performance or one moment of weakness to send you packing this cycle on Top Model.
America's Next Top Model: College Edition airs Fridays at 8:00 on The CW. You can check out my recap of the most recent episode here, as well as the TVOvermind America's Next Top Model discussion forum here.
Do you like that Top Model is expanding the type of photo shoots that it can do? What other shoot set-ups would you like to see on the show in the future? Which girl do you think will get a first callout this week?