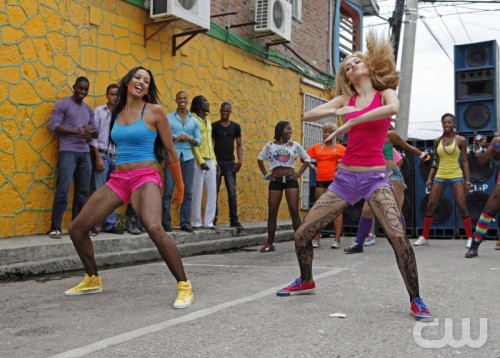 Very rarely does America's Next Top Model break out a cliffhanger. By the end of nearly every episode in the show's nearly decade-long run, we're bidding adieu to some 18-24-year-old co-ed that just had her dream crushed on national television, so the last episode of Top Model was very much a departure for the show. There was going to be an eliminated contestant getting a second chance at taking the top spot in the competition, a first for Top Model, and we wouldn't be getting to find out who it was until the following week. Bummer.
On the next episode of America's Next Top Model, the final six (whoever they may be) find out that the international destination for cycle 19 is Kingston, Jamaica, where they'll have a dancehall dance off and a photo shoot set aboard a river raft. The addition of the eliminated contestant comes at a fairly intriguing time on the show; the international getaway is where the pressure noticeably increases every cycle. The first half of the cycle is typically filled with a bunch of the models finding their feet and trying to figure out what the heck they're doing, but going international means that you're one step closer to becoming America's Next Top Model, one step closer from being able to dive head first into the shark tank that is the fashion world.
Now it's only a matter of finding out which of the remaining models can swim…and which sink like a stone once they're thrown into the deep end.
America's Next Top Model: College Edition airs Friday at 8:00 on The CW. You can check out my recap of the most recent episode here, as well as the TVOvermind America's Next Top Model discussion forum here.
Who do you think should be brought back? Do you think the eliminated model that they bring back has any chance to make a dent in the competition? How do you feel about Jamaica being the international destination?