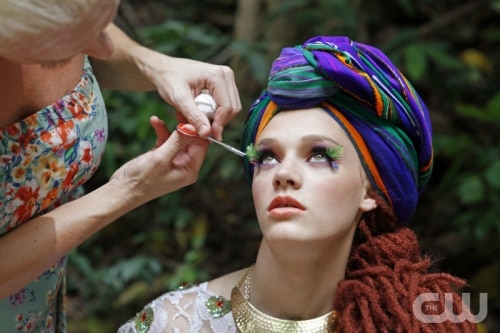 Ding dong! The girl is dead.
The reality villain is someone who can bring a lot of life into a season of television. That love-to-hate personality type may not be someone you'd want to have tea with on a Saturday morning, but when pitted against a cast that you don't like, it can make for incredibly compelling television to watch them try to mow down the entire field by themselves. However, they can easily wear out their welcome and become more of a hindrance on a season's enjoyment than an asset, particularly if they're more bark than bite or if their level of talent doesn't match up to their level of trash talk. Cycle 19 of Top Model finally decided to get rid of their villain tonight and I'll be the first to say: GOOD RIDDANCE.
Dolphin Do-Over
The challenge for the week finds the final five having to (high fashion) model with dolphins, which Tyra is afraid of. The first photo will be a close-up of the model interacting with the dolphin while trying to bring out a little sensuality, while the second photo, an action shot, takes place once the two dolphins pick up each girl and drag her a certain way through the ocean. The winner will receive a $3000 pack of goodies from The House of Marley, a line of products inspired by reggae legend Bob Marley and helped run by daughter Cedella, whose line of swim wear (High Tide) will be worn in the challenge.
Kiara's first photo is a little bit too video girl/hoochie tooch, while her second photo finds the water created by the dolphins obscuring the suit. Nastasia creates a natural first photo that showcases a pretty nice angle from her body, though her second photo turns out to be rather lackluster. Leila has to deal with an already irritated dolphin that gets spooked and inadvertently hits her in the leg; once the pain rescinded and the animal calmed down, though, she produced two very strong photos that were high fashion with a hint of sensuality. Kristin can't get her cheerleader past out of her modeling and while she managed to get out of the water and had good extension, there was nothing model about her pose. Laura hit the same note a bit too much during her first photo, serving armpit realness in the process, and lost her top during the second photo; she did manage to laugh at what happened and didn't take it to heart, which made her more likable than normal.
The winner of the challenge was Leila, who chooses Kiara to come with her on the spa trip included in the prize pack. Kristin and Laura can barely stand the sight of Leila at this point and don't believe that she should have been allowed back into the competition. Remember this.
Wacky Water
After receiving a Tyra Mail from P'trique that talked of babbling brooks and "easy to fall", the girls head to their next photo shoot at Dunn's River Falls in Ocho Rios. Tyra will be the photographer of the week, riding in on a jet ski (of course) and filling the models in on the object of the shoot. The most important goal is to create a photo that's not just a manifestation of modeling prowess, but a photo that doubles as a piece of art, art that will be hung up in Tyra's house. The photo that she deems to be the most artistic will get a spot on her wall; the theme of the shoot is "fierce water warrior princesses" and each of the models has an individual theme of an "element" that they'll be rocking in their wardrobe. Leila is given wood, Kristin is given fabric, Laura is given shells, Nastasia is given pipe, and Kiara is given metal, which will all be represented in the accessories of their ensemble, particularly through the choice of head-gear.
First up is Nastasia, whose chainlink-esque headgear gives her shoot a fairly high fashion appeal, though she has a hard time hearing Tyra's direction over the roaring water and looks to fall back into one particular pose too many times. Kiara brings a surprising amount of regality to her shoot, but with body language that resembled last week's shot and her inability to look at the camera, it could go either way in terms of final product. Laura lets the water and the competition take their toll on her confidence, as her shoot is very timid and lacks any real commitment, Tyra having to overly direct her movement in order to get a decent shot. Laura may be a frontrunner, but during the time that she needed to impress the most, she fell flat. Kristin's stiff once again and doesn't have a lot of natural movement going on, though part of that could come from the unsteady head-piece she's wearing and an awkward position on the rocks. Finally, Leila makes up for her performance last week by impressing Tyra with her animalistic movement and how deep her modeling went.
Panel
At panel, the final five wear colorful flowers in the hair in honor of being in Jamaica, but things turn from sweet and fragrant to an odorous affair fairly quickly. On the positive side of things are Nastasia, whose performance at the photo shoot impressed Tyra and whose photo found the angularity that the judges have been after all cycle; Leila, whose primal H2T wood princess realness reeked of high fashion (and occurred on the very first frame); and Kiara, who managed to balance the right amount of tooch and a flattering angle for her face in a photo that put her in the good graces of social media. Kiara's photo also leads to a tiny scuffle between Rob and Kelly, Rob not wanting her to change a thing from the shoot and Kelly offering a minor critique of their own. The two have danced around one another the entire cycle and it'll be interesting to see if that tension (and the brief arguments they've had thus far) will come to a head later in the season.
However, as with all things Top Model, there are things good and there are things bad. On the bottom tier this week are Laura and Kristin, both of whom talked a serious amount of smack the entire episode and got too wrapped up in the competition aspect of the show, forgetting to actually, like, model. Laura's face ended up being a little too bedroom eyes and not enough warrior princess, her body positioning unflattering and lacking in anything resembling an angle or power, while Kristin received kind words from Tyra for braving the elements; however, that didn't extend to the rest of the photo, which gets critiqued for being too awkward and having lackadaisical body language. This, of course, causes Kristin to go into the room that the models wait in until the call-out occurs in a pissier than ever mood, irked by Kiara celebrating her own strong performance and obviously knowing that she was headed home. Kristin took the chance to go all out in her final interaction with the other girls, talking down to Leila about not respecting her and pouting away like the little girl she's presented herself as from day one before being let go by Tyra in 5th place.
For her part, Kristin leaves on an expectedly toxic note, indicating that she didn't make any genuine friends while in the house and hoping to never interact with any of the girls again.
Class act, that one.
America's Next Top Model Weekly Leaderboard
1. Leila – 46.4
2. Kiara – 42.2 (Photo to be hung in Tyra's home)
3. Nastasia – 40.3
4. Laura – 35.9
5. Kristin – 34.0
Additional thoughts and observations:
-I loved Tyra telling Kristin to forget about learning to model her body and to focus on her face. In Tyra-speak, that whole spiel = "girl, you a lost cause."
-Kiara would "probably" kill somebody in order to win Top Model. And they thought Victoria was nuts…
-I've been feeling like Laura's the frontrunner for a while, but would Tyra really pick a winner that doesn't naturally get the interaction between photographer and model?
-Good for Leila for explaining that she didn't randomly get inserted back into the competition; she earned her way back and did every photo shoot that the others did with equal (if not more) pressure on her.
-Laura being obsessed about an argument over how obsessed she can be was Top Model logic at its finest.
-Next week on America' s Next Top Model: The final four have to shoot a commercial for the Jamaican Tourist Board, while the photo shoot for "Dream Come True" is all bikinis, all the time.