[youtube http://www.youtube.com/watch?v=axJ-I_SJLug]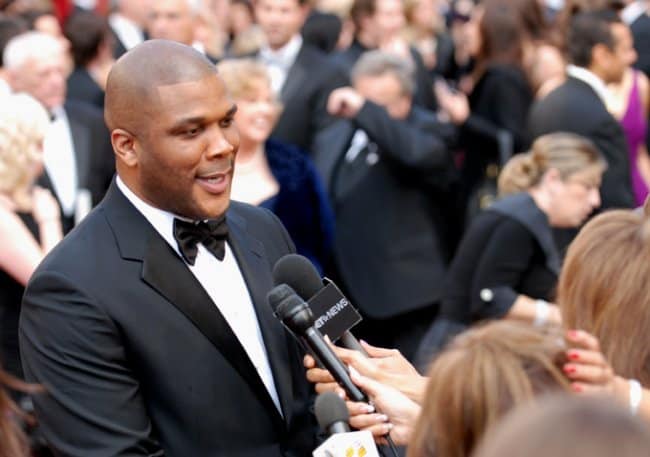 Immediately following a pretty fun makeover episode, Top Model has went to another one of its staple episodes to ease a lot of pre-cycle turnover: the acting episode. Year after year, the show has subjected its models to having to learn lines and try on different accents in order to prove their worth to the Top Model gods. In exchange for their attempted hyphenation, the winner would earn a walk-on/minor role in a TV show, which added a credit to her IMDB page and allowed her to dip her toe in the world of professional acting.
In the preview for "The Girl Who Does What Tyler Perry Says", the girls are at the mercy of the industry heavyweight, as they're forced into elaborate costumes and have to parade around the 3rd Street Promenade in Santa Monica. Tyra and Tyler are sequestered in a van nearby, plying them with outrageous suggestions and observing both how they handle a tough environment and how believable they are in their new role. The winner of the challenge will win a role in a Tyler Perry movie, arguably the most lucrative challenge reward that Top Model has put together. Previous acting challenges have found the models trying to master cockney, playing against Taye Diggs, and delivering complicated medical terms, with shows like Veronica Mars and CSI serving as showcases for the winner.
America's Next Top Model: College Edition airs Friday at 8:00 on The CW. You can check out my recap of the most recent episode here, as well as the TVOvermind America's Next Top Model discussion forum here.
Who do you think will win the acting challenge this cycle? Is the prize for the challenge, a role in a Tyler Perry movie, the biggest for a non-finale episode of Top Model? Does the challenge seem like it could be telling for the future of the cycle, or at least entertaining?