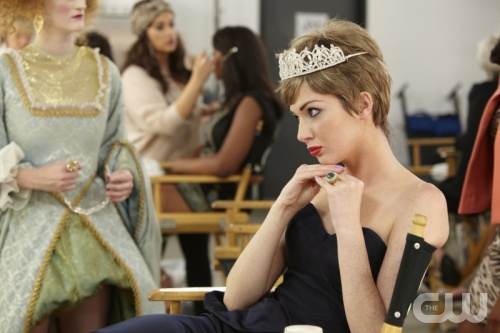 I believe it was Thomas Mann who stated "Time has no divisions to mark its passage, there is never a thunderstorm or blare of trumpets to announce the beginning of a new month or year. Even when a new century begins it is only we mortals who ring bells and fire off pistols."
Apparently Thomas Mann wasn't a big fan of Top Model, because like death, taxes, and Cher outliving all of us, a new cycle of Tyra's Home for Wayward Girls is a certainty of life. At least every September and February/March, that is. No matter rain, sleet, or threat of unkempt weave, Top Model has managed to be there, like a loving mother or herpes, and Wednesday saw the latest cycle attempt take-off. This time around, it's American Revolution II: Electric Boogaloo, with seven girls from either side of the Atlantic attempting to prove, once and for all, which country is fiercer.
Or something, I don't know.
I can't lie, though. It actually wasn't an awful episode of television. I mean, it's Top Model, so there's a certain amount of lunacy to be expected, but coming from the atrocious-on-all-levels "all-star" season, this felt like as much of a return to form as we can probably expect going forward. Even though it seemed like random girls kept popping up for at least half the show, making it hard to keep track of their identities at first, the cast seems to have a bit of potential, at least in the personality department. They may not have turned out the photo shoot (more on that later), but I have to admit that personalities and context for each contestant were set up pretty decently. Credit goes to the editors here for giving us at least a little to work with for each girl and hinting at what we can expect from each going forward. The premiere was a little too bloated to pick an early favorite, especially since the girls are trapped in the "team rivalry" thing, but my favorites came from the UK. Catherine's Queen Elizabeth was dynamic and a chameleon-like transformation for the plain-ish girl, while Ashley, adorable little Scot that she is, was far and away the most likable cast member in the bunch. Most of the other contestants are a little out of whack, either deficient on anything distinguishable (Eboni, Candace), likability (Laura and her awful, awful crimped hair, overly aggressive camera hog Annaliese), or confidence (Mariah, Louise).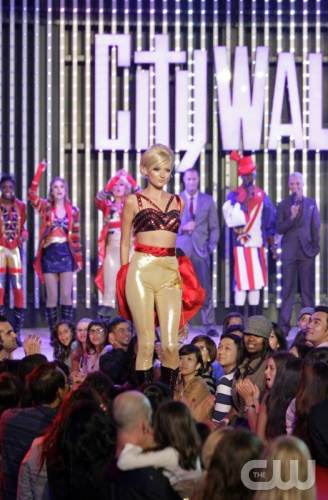 I can't completely fault the ladies yet, though, because what was that photo shoot? I actually love the concept and the use of 60 cameras to create a 3D image, but the styling was horrific. For every Queen Elizabeth or Madonna that had drama and helped the photo, there was a John Lennon that looked nothing like him, a George Washington with bright red lipstick, or an Elton John that looked like a swap meet genie from a horrible children's book. Of course, you can argue that a good model can overcome bad styling, but if you're not going to put all the girls on a level playing field going into this, it just feels stupid and unfair. They're already nervous about the first competition, being on TV, and potentially being the first to go home, so having to overcome a bad character assignment or a horrible wig is just too much for them to have to deal with. Modeling is all about confidence and what you wear can have a powerful effect on how you carry yourself; it's a human reaction and something that's very hard to mask if not ideal.
And while I enjoyed the shoot, though it was inferior to the sterling season 2 celebrity shoot, it felt placed wrong in the season. That cycle, we had spent a good amount of time with the girls and knew how they modeled; they had a body of work and you knew that if Girl A failed to turn it out, it may be due to the concept instead of the talent level. This cycle, we haven't really gotten a chance to know how anybody can truly model, thanks to both the trampoline and the shoot's schtickiness. If this had been a few episodes later in the cycle, I could be behind it, because at least we'd know who could model by then and who couldn't. Here, I still don't know if, say, Seymone is a favorite to go far or if she just took to this particular challenge, as we've not seen her model as herself.
The shoot may have been problematic (and the "runway battle" ultimately pointless), but how great was Kelly Cutrone, you guys? I've had very little exposure to the multi-multi-hyphenate fashion bigwig, but she delivered and then some in her first appearance on the show. Ever since Janice left before cycle 5, Top Model has had a tough time making the panel compelling, trying to go nicey-nice (Twiggy), cold (Paulina), and high fashion-y (Andre) before coming back to another tough talking brunette in Cutrone. And you know what? They kind of nailed it. Cutrone's place makes sense for her expertise in the marketing/business side of fashion, as well as her ability to give very specific, intelligent bits of constructive criticism to the models. She was extremely present and appropriately intimidating, carrying the air of authority befitting someone of her stature and making the moment feel a little more professional. If she can tap into Janice's sense of humor, I think Kelly may be the heir to the Dickinsonian Chair to the Left of Tyra that has seen a lot of rotation in recent years.
And let's be real. We need someone really invested this show because Nigel can get a little off track and Tyra's Tyra, so at least one panelist has to set everybody straight once in a while.
The Top Model premiere was kinda, sorta, maybe encouraging. I know, quelle surprise, but Kelly Cutrone was a solid addition to the Top Model family and the contestants don't seem that bad. Though I would have preferred the opening photo shoot show us who these girls are and how they model as themselves, it was a fairly fun shoot that threw in a bit of a wrinkle to the typical Top Model formula. I'm sure that it'll devolve into the expected mix of melodrama, nonsensical challenges, and incoherent babbling from Tyra by about week three, but hey, we got a frenetic albeit slightly overstuffed premiere this time around. In the world of Top Model, that's not too bad.
Thoughts, Quotes, & Observations:
-"I'm so getting subtitled."
-"It's like futbal's behind us. God."
-"I like cameras. I'm an only child."
-Final Call Out Order: Seymone, Kyle, Sophie, Laura, Catherine, Candace, Mariah, Azmarie, Eboni, Louise, Alisha, Annaliese, Ashley.
-Moment of honesty? I was more than a little pumped for Top Model to return. It's the most fun I have writing at TVOvermind and I think I can't wait to throw shade with you guys.
-Kyle = Katy Perry, no?
-Which plus-girl do you think will make it farther: Louise or Seymone?
-I like reality drama, but didn't the opening montage of stuff from the upcoming cycle seem a little over-the-top? I'd prefer more focus on the competition, personally.
-I rather enjoyed Kelly Osbourne as a guest judge. I don't care for her on Fashion Police or red carpet coverage, but she did pretty well in her limited role here. I love a guest judge with an opinion, everybody.
-As much crap as I talk about her, Tyra had me absolutely gagging at panel. The white dress, the chignon, the long earrings – she showed that, though she may be retired, she can still bring the supermodel out when need be.
-TV Guide talked to Tyra about Top Model, graduating college, and the upcoming 19th cycle. Which judging decision does she wish they could do over again? (Spoiler alert: not "every single one of them", like you'd think.)
-Next week on Top Model: It's time for (probably) ridiculous makeovers and Kris Jenner and her child slaves two youngest daughters guest star.