Don't look now, everybody, but there are actually two (not one, but two) Top Models lurking the streets and creating mayhem. Horrifying, I know. The first Top Model is a semi-respectable attempt at putting on a modeling competition; you know that it knows what to do and for the most part, it does just that, never letting its poker face slide for a minute. It's a Top Model we don't see much, but when we do, it's always both a pleasant surprise and random interlude amidst other elements. The second (and default) Top Model is a hot-buttered, corn-starched, girl-I-forgot-to-take-my-anti-psychotics mess; it produces pretty entertaining television, but you kind of wish Top Model would put that mode back in its pants once in a while.
"Georgina Chapman" felt like a combination between the two major aspects of Top Model and it kind of worked because of that. On the serious side, there was another challenge that actually had, like, real world relevance and stuff. I know. I know. It may have played on the "go-see" structure that cycle 18 has already went to, and will go to again, but whenever Top Model sobers up and shows its stuff, it's not a bad little show. Kelly brought the acidic comments down to a dull roar, providing solid constructive criticism of the runway walks after each of the girls auditioned for the four Dorchester Prize finalists and exemplifying one of my biggest peeves about this cycle. Tyra, if we're going to have major, legitimate runway challenges like this, why isn't there someone there to teach these girls how to walk? It doesn't even have to be Miss J, since Kelly showed that she could very easily lead a runway tutorial for the remaining girls. It makes no sense to me to have multiple catwalk challenges and not offer any tips/minor challenges along the way, especially if they're trying to create an actual top model this time around. You're taking very green models and asking them to teach themselves these building blocks for a modeling career without the interference of anybody else; you can't even use the "they should practice" excuse, because why practice if you're doing it wrong? That only reinforces bad habits and makes improving that much harder, two things you'd think the show would be conscious of not letting happen.
The challenge did provide them with valuable networking for future shows (Alisha, Annaliese, and Sophie, in particular), but all of that's negated by the fact that some of these ladies still don't know how to walk. And that's a problem. Top Model isn't (and shouldn't be) modeling school, but the goal of the show is (or should be) to build these girls up to become Fashion Terminator, something that can't be accomplished by letting them flounder in their own inadequacies for 13 episodes.
While the challenge was pretty respectable and relevant, the shoot played on the typical Top Model silliness that keeps me coming back, throwing the final seven in Hello Kitty couture. The whole candy-coated setting reminded me of the ice cream shoot from cycle 8, though the photo quality mirrored last week. Alisha slaughtered the competition with a powerful, confident photo reminiscent of Xiomara's take on Grace Jones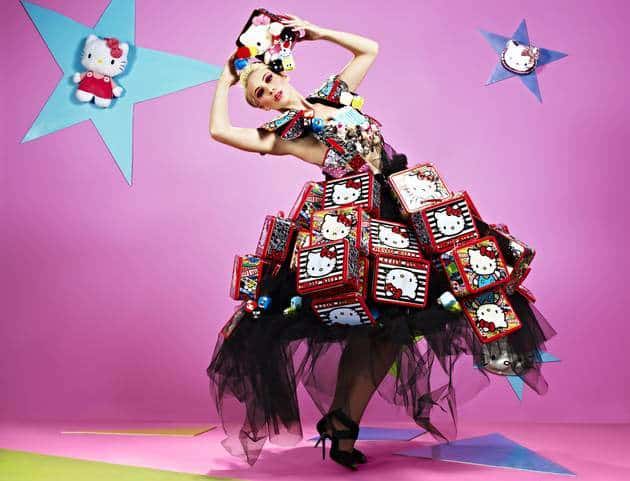 from cycle 2, finally breaking through and producing a fantastic photo. The girl already has personality for days and shines in person, so if she can capture that magic in a still, she could outlast at least several of her competitors. After Alisha, everything ranged from good-but-not-great to pretty terrible, the Brits again managing to take the top 3 slots and 4 of the top 5. Sophie, Catherine, and Annaliese all had very good elements in their photos, but they lacked one thing to push them from good to great and beyond, whether it be facial control, body control, or the BAM, as Kelly mentioned. Team Amurrica, though, just made me sad, even though it's not 100% their fault. Of course, Laura gave us bendy straw realness once more and rightfully got called out for becoming rather one note, but her photo was okay and not worthy of skating in the bottom two. No, not as long as Seymone and Eboni were around; y'all, what were those photos? Granted, the former was pretty much set up to fail with a big ass, overexaggerated head piece, but she still gave the same tired, limp, insecure performance that she's given more weeks than not. And the latter had no shape, no humor, no story – you're wearing an outfit made of Hello Kitty products. Maybe now's not the time to retreat into your shell and give us cold, dead fish couture.
But it was super cocky, super immature Seymone that got the boot, another good move for Top Model. By now in a cycle, I'm fuming at maybe one or two eliminations, but the past three that have been picked off have been shockingly coherent decisions. Seymone was obviously not mentally or emotionally ready to take the next step and become a model, her work during the cycle having been incredibly inconsistent, to put it kindly. Her face may be gorgeous, but she never knew what to do with her body and combine that with the stank attitude and it was her time to go. The thing is, I think that she could have been one of the girls that flourished under challenges that actually taught something and the mentoring that came with it. During the runway challenge, I noticed that her walk really hadn't progressed from any of the other times we've seen it, which is a shame because it looked easily fixable. Once Seymone figures herself out (and gets over herself), I think she could be a solid commercial model, but for now, she's all potential and no push-through.
Top Model had a pretty okay episode that fused together both of its identities in a fairly interesting way. If there's anything I learned this week, it's that people think that Beverly Hills was named after the Beverly Hills Hotel, Sophie's signed to 450,000 agencies in London, and Tyra loves her a good cat pun. Don't we all, Tyra? Don't we all?
Thoughts, Quotes, & Observations:
-"When is an editorial coming up, for gods' sakes?!"
-"What do I do? I sack it."
-"It was almost like robots on oxycontin."
-"Go 'Do you want some of my lunch?'."
-"Well, hello…kitty."
-Annaliese's exasperation and (really funny) facial expression made "Seymone…she's hard work." that much better.
-Final Call Out Order: Alisha, Sophie, Catherine, Laura, Annaliese, Eboni, Seymone (eliminated)
-What do you guys think about the recent overhaul that Tyra did to Top Model, booting Nigel and the J's?
-The 16 year old (!) photographer made me feel like a failure. When I was 16, I was trying to keep a B in Geometry and worrying about the bully that I had to encounter at lunch, not on national television living my dream.
-I liked the variety of designers the girls auditioned for, if only because it highlighted the value of versatility in a model.
-Next week on Top Model: The ladies go international (spoiler alert: this is their destination), re-create their auras through fashion, and pose in silk while wearing live silkworms. Because, of course that's what they're doing.