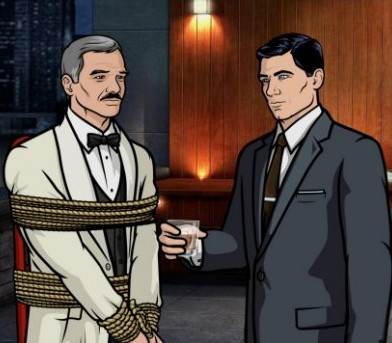 Archer spies out its season 3 premiere, or technically season 3.5 premiere with "The Man From Jupiter," as Burt Reynolds lends some star power in dating Sterling's mother Malory and generally distracting from the Cuban hit squad sent to kill the world's greatest secret agent. Thankfully Archer fans had "Heart of Archness" to tide them over through the Fall, but "The Man From Jupiter" makes for a fine return to form.
Like most series, it took me a good while to get into Archer. I never paid much attention prior to the current season, and it wasn't until a learned, yet cynical friend of mine raved about the series that I even thought to give it an honest look. Perhaps I'd been feeling a bit of H. Jon Benjamin fatigue, and lord knows I have to dislike something too many people praise, but the real reason for my apprehension lay in my love for Adam Reed's previous series, Frisky Dingo and Sealab 2021.
Those were akin to that classic Adult Swim formula that looks past extraordinarily absurd circumstances to focuses on the neuroses and nuances of character dialogue, so to me Archer always seemed like a toned down version of that. With that elitist preamble out of the way, I should tell you that I genuinely do like Archer, even though I don't like Archer himself. Blame the aforementioned fatigue of H. Jon Benjamin's ever-present smarm, or the obsessive mother issues, I find very little to grasp or genuinely laugh at Sterling Archer's latest acts of buffoonery. The supporting characters on the other hand, or the incredible recurring jokes and lines, artfully ducking between scenes via some kind of dialogue bridge, these make the series endlessly watchable.
Archer's third season has something of an awkward schedule, in that 'The Man From Jupiter 'occurs as the fourth episode of the season behind September's 'Heart of Archness'trilogy, self-contained as it was. That means that the burden falls to 'Jupiter'to deliver a strong ratings start, something the presence of Burt Reynolds should accomplish well. I wouldn't have thought Burt to have a particularly lively voice for animation, but it doesn't hurt that he and Archer share such insatiable chemistry, an interesting thought given how Archer tends to record voices separately.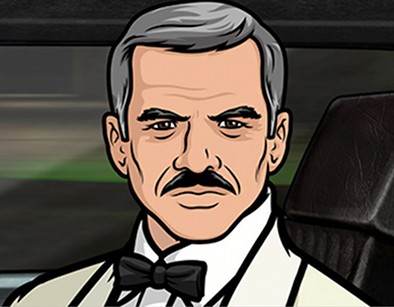 That in and of itself can make the most nonsensical of Archer stories work (I'm particularly looking forward to Bryan Cranston's outer-space episode), the chemistry and particularly Archer's absurd enthusiasm for rarities like personal heroes and ocelots. I imagine an actual Burt Reynolds fan would get a lot more mileage out of the repeated movie references, but Archer's sheer glee at watching his hero operate easily carries the more casual fandom. One thing I couldn't quite put together was why Archer would so strongly object to such a strong personal hero like Burt Reynolds dating Malory Archer, but Archer wouldn't be Archer without mother issues.
The supporting players don't get terribly much to do with 'Jupiter'beside fend off the Cuban hit squad hunting Archer, or flesh out Ray's new-found paralysis from the events of 'Heart of Archness,'but their little moments more than cover for the time we've spent waiting for their return. After all, it isn't called 'Ray'and Archer's overzealous excitement completely carries the episode regardless.
It does interest me to note the 'The Man From Jupiter'ends one something of a character-driven note, as Archer finally acquiesces to sending his mother out on a date with Reynolds, in one of those rare moments of honesty the series likes to slip in. It certainly opens the door for Reynolds to return in the future, but I've been surprised at the amount of recurring characters that make it through Archer episodes alive, and haven't yet recurred. I'd love for Reynolds to occasionally recur as a Carl Weathers-type (yet another Arrested Development conection) where his ultra-smooth movie star façade slowly cracks into madness toward Archer's chagrin, but that's just wishful thinking.
Either way, Archer is off to a strong start this season, or…three…quarter season, however the rest of the season plays out. And coming from a casual viewer of the series, 'The Man from Jupiter'is definitely worth a look, even for newbs.
And Another Thing…
I like the subtlety of Archer re-using the 'wake up in a mental institution with amnesia under someone else's name'line, his mother clearly having used it on him in the past.
'I hate to sound Hollywood, but could you put my Pimm's Cup in a pimp cup?
Admittedly yes, I LOL-ed at the elevator conversation between Burt and Archer over the installation of a Bat-pole.
Any Burt Reynolds fans out there? I'm assuming some of the car stunts / crashes were references to specific Reynolds movies.
And since I'm too lazy to Google it, I'm assuming "The Man From Jupiter" is a Reynolds reference of some kind?
What did YOU think?