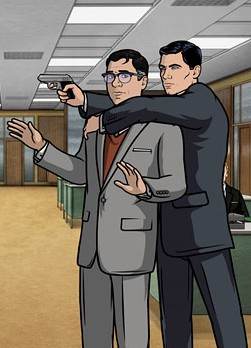 Archer spies out its latest from season 3, or technically season 3.5 with "El Contador," as Archer and Lana hunt a Columbian drug lord with newly-promoted Cyril Figgins (Chris Parnell) in tow, and the ISIS agents at home face the thread of a drug test. "El Contador" brings in the usual laughs the Archer crowd knows well, but doesn't bust the gut as heavily as last week.
Before last week's season 3.5 premiere I made sure to point out my own history with Archer, and overall feelings about the series as a means of illustrating exactly what does, and doesn't work long-term in animation. Luckily, 'The Man From Jupiter'was the type of Archer episode that hinges on an attention-grabbing concept, that of Burt Reynolds'guest turn, providing a solid re-integration before launching into the traditional fare. 'El Contador'represents that exact kind of Archer, one of the more stand-alone episodes that runs with a particular concept for a solid 22 minutes without worrying too much about the consequences.
One thing that I have noticed and praised about Archer is the show's ability to run with certain changes to the status quo, even expand upon past ideas. Case in point, 'El Contador'sees Malory moving Cyril Figgins into the position of field agent (something first attempted way back in the series'second episode 'Training Day') after Ray's newfound handicap renders him unfit for duty. Despite the quick move and lack of training, Malory then dispatches the three core ISIS agents to capture a Columbian druglord from his jungle hideaway while the team at home deals with an impending drug test.
Surprisingly, Archer manages to subvert the tropes covered in 'Training Day'by showcasing Cyril as an extraordinarily competent field agent, save for his lack of physical skills. 'El Contador'puts in perspective the fact that under Archer's control most any mission or training will fail spectacularly, but even the meek Cyril can flourish by striking out on his own. It also doesn't hurt that immediately separating Cyril from his teammates allows for some of that classic Lana/Archer sparring, juvenile bickering, ill-placed condescension, and just a hint of sexual tension. Yes, there's even an exotic animal for Archer to fawn over.
What hurts 'El Contador'a bit is its inability to connect the A and B stories, so while Archer and Lana fight for their lives in the jungle the ISIS employees at home undergo one of Krieger's experimental remedies to slip by an upcoming drug test. Naturally, any experiment-related plot with Krieger will spiral into absurdity, and it makes for good fun to see Pam, Ray and Cheryl's resulting hallucinations, but the plot doesn't really go anywhere beyond its visual gags.
'El Contador'doesn't offer much in the way of recurring callbacks or dialogue either, but that crackling Archer dialogue did have me snickering at some of the more subtle gags like characters continually differentiating between 'literally'and 'figuratively,'or Cyril continually diverting uses of his real name as references to breakfast cereal.
Ultimately, 'El Contador'makes for a perfectly representative outing of all that is good in Archer, but it's that more generic return to un-serialized form that keeps anything particularly memorable from landing. We'll chalk it up to sophomore slump, and keep rolling like old Ironsides.
And Another Thing…
I hope we can milk the 'Ray silently wheeling back, then out'visual gag for all that it's worth.
'Thanks, Ghost of Teddy Roosevelt.'
What did YOU think?