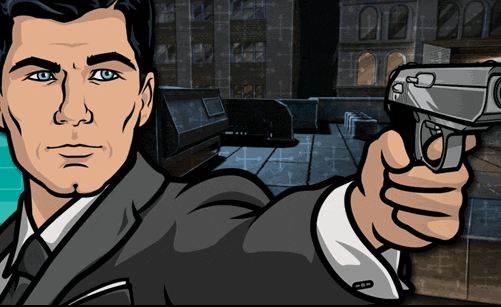 According to Entertainment Weekly, we're about to get a whole lot of H. Jon Benjamin in a fourth season episode of Archer. In addition to voicing the title character of the critically-acclaimed animated comedy, Benjamin will be bringing Bob Belcher to the land of ISIS in a crossover episode with FOX's Bob's Burgers. For those who may not watch both, Benjamin voices Belcher as well as Archer, so get ready to be mind freaked in the best way possible.
But what type of plot could bring the two men together in the same place at the same time? And would it make sense?
Benjamin notes: 'It's like a Bourne Identity-type plotline. It starts off with Archer as Bob, making hamburgers, but he doesn't know that he's Archer. He's at the restaurant and these, like, I think Russian thugs come in, and Bob dispatches them expertly. And then he's like, What just happened? How did I do that? So he has to try to figure out why he's so good at killing people.'
Awesome? Awesome.
Bob's wife Linda (John Roberts) twill also be making the crossover to the spy comedy, but don't look for Tina, Gene, or Louise to appear, as fantastic as that might have been. The episode will reportedly have Archer-style animation, though including Bob's Burgers-style characteristics. I'm sure the Burger of the Day for the episode will be excellent.
The fourth season of Archer premieres January 2013 on FX, while the third season of Bob's Burgers will bow Sunday, September 30th at 8:30 on FOX. You can check out the rest of the FOX fall premiere dates here.
Do you think that a crossover between the two shows will work? Are you a fan of one, both, or neither of Archer and Bob's Burgers? What other shows would you like to see crossover for an episode?