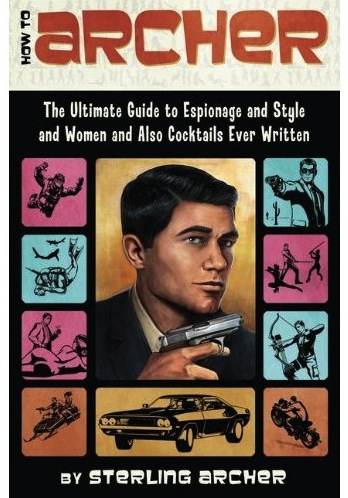 For those of you who appreciate the finer things in life such as ping-pong paddling escorts, airboats and turtlenecks, your prayers have truly been answered. Sterling Archer, the world's greatest secret agent has taken time from making the world more safe and stuff to provide us with his 'How To'panacea for all that ails.
Right out of the gate, Sterling Archer (codename: Duchess) invites you into his world providing an endless array of poignant insight, pithy quotables and irreverent wit. Even after three seasons of the cult favorite Archer animated series on FX, Sterling's sortie into the publishing world manages to retain his unique brand of humor both cutting edge yet timeless.
Not known as being one to rest on her laurels, Sterling's confident, hypercritical and oversexed mother, Malory Archer, provides a scathing yet consistent Foreward to Sterling's literary opus. In so doing, she also hints at the possibility of the release of her own memoirs entitled: 'Secrets and Silk – The Malory Archer Story'. We can only hope that the she can take time away from ISIS to provide us with this sight-unseen-gem.
Enough about her, let's get back to Sterling. There really isn't anything else positive that I can say about this book, that Sterling doesn't say for himself. More so he says it with a particular disdain and borderline contempt for the reader (i.e. 'You strike me as the sort of person whose bed would be on a cheap metal frame').
Despite the abuse and personal attacks on the reader, this is a hysterically ribald book that has been enjoyed by 100% of the people I know who have read it. Unsure if my sample size of three is statistically relevant, but I'll leave that to, as Sterling puts it, the 'Harvard computer geniuses using complex computer algorithms'to figure out.
Want to order your own copy of "How to Archer"? Check it out on Amazon