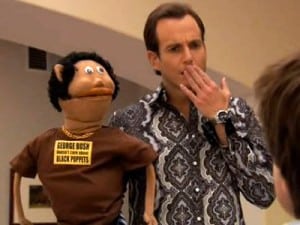 Perhaps my one single complaint about the brilliant fourth season of Arrested Development would have been the lack of interaction between Gob and his awesome puppet, Franklin. There was just pure magic that would happen when these two would pair up. Think all the magic of the Paul McCartney Steve Wonder song, Ebony and Ivory (or the guns from Devil May Cry) and you understand. So to not see Franklin for the entirety of season four was kind of a crushing blow to my soul. But good news for anyone who was as crushed as me about that. Franklin WILL BE BACK in season five.
During a podcast appearance yesterday, Arrested Development show creator Michael Hurwitz talked a bit about the future of the show, as well as expounding upon a favorite felt character of ours named Franklin. He stated they did, indeed, have a plot line for Franklin, but there was so much to do and address that they just never got to it. So there is a solid plot line for Franklin, and we will see just what it is next season.
Oh, this causes the mind to wander into speculative territory, which as you all know, is territory I truly love.
Maybe Franklin will become sentient and attempt to kill the entirety of the Bluth clan after a night of drinking too much juice with Buster. Okay, safe to say that will NOT be where the show goes with Puppet Franklin, but I am just overly excited he is even coming back.
Afterall, he wrote one of my favorite songs of all time. I just can't mention it here, as I am sure you all understand. It's not easy being…um, a journalist.