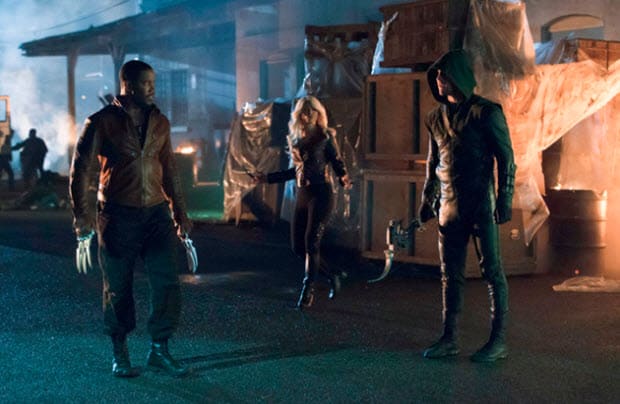 One of the greatest things that I have loved in Arrow is whenever they introduce new characters from the DC Universe. This week we got to meet Sebastian Blood, aka Brother Blood (Kevin Alejandro), and Ben Turner, aka Bronze Tiger (Michael Jai White). I wasn't familiar with them before this episode but I was intrigued by both (though not equally).
As powerful of an actor as Jai White is, the award for best introduction in this episode was Alejandro's character. Bronze Tiger was nothing more than a great physical threat to the Arrow that didn't get to be an actual character. The good thing though is that like Blood, Bronze Tiger is going to be a recurring character so there will be time for us to get to know him better.
Blood was just like Summer Glau's character, a new antagonist for Oliver instead of the Arrow to handle. Last season, it was the vigilante who had a lot of villains, while the man under the hood didn't have a lot of enemies. It will be interesting to see what directions this version of the character will go throughout the season.
One of my favorite characters, both from the Green Arrow comics and on this show, has always been Roy Harper and what "Identity" did was to get him one step closer to his destiny as a vigilante himself. Haynes and Amell had a powerful energy in their scenes together and it's alluding to what we may see happen down the line. We also got to see Roy interact with Laurel and I like that we are starting to see other characters that usually don't intermingle with each other, finally getting to do just that.
Speaking of Laurel; I'm enjoying the fact that Cassidy (who in my opinion, is a great actress) is finally getting some other storylines for her character that doesn't focus on relationships. Despite what we saw her do in the cliffhanger, I have never been more excited for this Laurel than I am now.
We see the dynamics within Team Arrow (present) and Team Island (flashbacks) starting to change in both good and bad ways. On the island this week, Slade doesn't seem to enjoy Shado and Oliver's intimate relationship. It was really moving to see Slade emotional which isn't something that I have seen a lot of in the few Deathstroke comics I have read. The version that the show gives us is incredibly compelling and it's all thanks to Bennett's great acting abilities, along with the writing.
In Team Arrow however, Felicity is stepping up a lot to Oliver and while it's great that she is fully embracing herself as a member of the team; she did come off as annoying at certain points which is a first for the fan favorite.
Oliver's quest of transitioning from a vigilante to a hero is solid so far and with the return of Kelly Hu's China White, as we see that goal still being a focus. But it seems now that not only does he have to work on getting Arrow's image fixed, but as well as that of the billionaire playboy.
Due to what his mother did last year, it makes sense that the people of the Glades would attack him but in all honesty; it's already getting old, but I suppose that we need to see that issue being there. Amell keeps giving us his A-game and it's one of the reasons why both the season premiere and this episode were so strong in the end.
James Bamford and his stunt team gave us some of the best action scenes in this episode and it helps that Hu's character is such a physical opponent to the Arrow. Hopefully we'll get to see her again this season, even though she is going to be partly busy on her new show The 100 (a new CW show that hasn't started yet). She is such a phenomenal actress, and China White is one my favorite Green Arrow villains from the comics.
"Identity" did truly live up to its title as the episode really focused on that theme and it was a strong follow-up from "City of Heroes". It will be exciting to see how Oliver will get out of the situation at the end of the episode.
Arrow airs every Wednesday night, 8/7c on The CW.