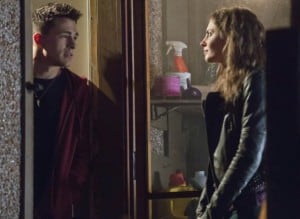 Teen Wolf star Colton Haynes is coming to Starling City in an upcoming episode of Arrow.  In an episode entitled "Dodger", Felicity tells Oliver that she thinks he's "all work and no play" so he decides to remedy that fact by setting up a date with none other than Detective McKenna.
Elsewhere in the episode, a jewel thief named Dodger starts hitting some Starling City hotpots and ends up targeting someone close to Oliver (Moira, perhaps?).  Also, while working with Laurel at the Legal Aid Clinic, Thea gets her purse stolen by a pickpocket named Roy Harper (Colton Haynes) and Moira makes a move against Malcolm Merlyn that might involve the mysterious China White, who returns in this episode.
Use the arrows above to browse through photos for the February 20 episode of Arrow on The CW.