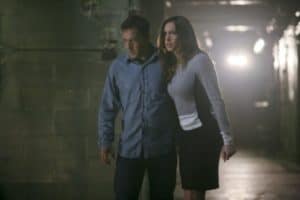 Oliver came face-to-face with Deadshot in this week's all new Arrow.  After targeting another name on his list, the Arrow was shocked when his target was shot and killed before he was able to get his own vengeance.  Poison from the bullet caused him to flash back to his initial days on the island when a man in a green hood saved his life.
When Oliver traced the gunman's signature to the Russian mob, he went undercover to discover his identity.  The mob eventually came through and Oliver confronted Deadshot in his hotel room, later stealing his laptop.  He headed to Queen Consolidated to get IT employee Felicity Smoak to retrieve information from the damaged computer.
When Oliver realized that Deadshot was targeting the buyers of a company – including Walter – the Arrow reached out to Detective Lance to help him protect all of the businessmen.  Panic erupted at the business auction as Deadshoot started shooting and Oliver suited up to confront him.  He managed to kill the assassin, but Diggle got shot in the cross-fire and now knows Oliver's secret identity.
Meanwhile, at the Queen mansion, Oliver encouraged his mother to discipline Thea more and not let her turn out like Oliver 1.0.  Naturally, this didn't go over well with Thea, who disobeyed her mother's wishes and then spilled the beans to Oliver about Laurel and Tommy's sexual relationship.
In next week's episode, Oliver realizes that one of the people on his list framed an innocent man, so the Arrow teams up with Laurel to exonerate Peter Declan.
Watch a preview below for the October 31 episode of Arrow.  Do you want teasers from The CW's upcoming November sweeps episodes, including Arrow?  Click here.
http://youtu.be/m12vEXPL2ms