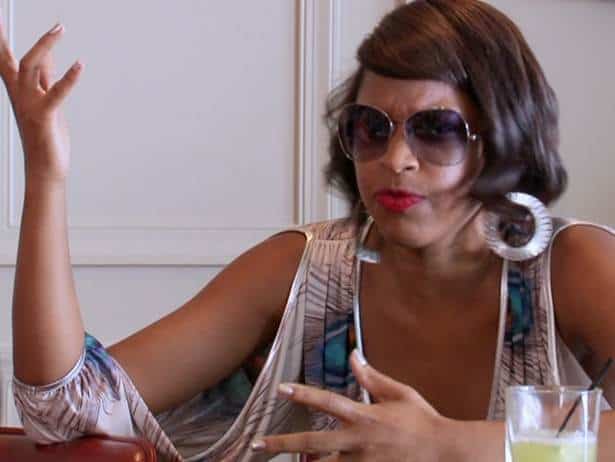 The aftermath of the latest Basketball Wives-flavored kerfuffle is exactly as you'd expect it to be: stupid.
As you'll recall, this week's episode ended with Ninja Turtle Evelyn leaping off a table into a pit of security guards to try and get at former friend Jennifer over a comment she made to Nia. The sneak peek expands to let us in on what happened after that and it's the typical Basketball Wives brand of bleeps, booze. Add in a few tears and one anticlimactic exit from Jennifer and there you have it.
It seems to me that all this could be solved by people talking to one another. Instead of being semi-mature and telling Jennifer how she feels left behind, Evelyn chooses to scream, curse, and cause a scene, all in hopes of getting camera time getting Jennifer's attention. It's all just arrested development of the worst kind, Evelyn and Nia feeding off of one another's negativity and inability to speak calmly about their issues. Nia could have very easily changed her locks and not have to deal with getting her keys back, but nope, it's time to show out on reality television for 4 seconds of fame.
And Evelyn's little crying fit about Jennifer ragging on Nia's lack of money was hilarious. Aren't you the same chick that (relentlessly) rags on other people's clothing and general appearance? Cut the theatrics, please. I mean, if Tami thinks your fight is over the top, maybe you need to bring it down about 500 notches. Just sayin'.
Basketball Wives airs Monday at 8:00 on VH1. If you missed my thoughts on the previous episode, where this whole mess began, you can check them out here.
Are you Team Jennifer, Team Evelyn, Team Nia, or Team Nia's wig? Do you think that Jennifer should sue Nia for hitting her? Why do you think nobody interfered?