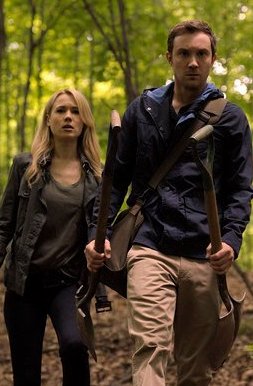 Finally revealing the fate of werewolf lovers Josh (Sam Huntington) and Nora (Kristen Hager), the third season of Syfy's hit supernatural series Being Human debuts tonight, picking up over a year after the events of last season's shocking finale.
Last week Sam and Kristen addressed reporters' questions about their characters and the new season in a rousing conference-call that I was luckily invited to attend.
A question that came up early was whether or not the main characters' stories would be more cohesive this year as compared to Season Two, or, if their storylines would again mostly run on separate tracks? "This season we've really gone back to what worked so well in Season One with the roommates, keeping everyone's storylines connected." Kristen shared, "The writers did a fantastic job this season at bringing that back, so everyone's been really excited about that. We always have the most fun on-set when we're all there together." Sam quickly seconded Hager's revelation, "It was a goal for the writers to put us all back together because it's their favorite thing to write as well."
This season is the first that Kristen Hager's been officially added as a series regular and while the castmates enjoy each others' company immensely, the characters they portray frequently succumb to tensions when gathered all together. Considering this season's tagline, "Be Careful What You Wish For," one wonders how the chemistry will be effected by Nora joining the trio in their Boston brownstone? "Well, Josh and Nora have been living there by themselves for a year and a half," Hager explained, "and though their goal has been to bring Sally and Aidan back, once Sally and Aidan get back we all have to sort of figure out how to live with each other. Aidan and Nora have the hardest time with that dynamic because we butted heads in Season Two and that carries over into Season Three. We'll definitely have a few conflicting moments between Nora and Aidan this season." "The good news," Huntington chimed in, "is that Nora gets more screentime. She's such a fun character. Her and Josh are amazing together." Hager wholeheartedly agreed, "We haven't seen the end of the Josh & Nora journey, for sure, and by Season Three our relationship is in a much more solid, happier place than it's been in the past two seasons. I always say that, as a viewer, I love watching the Josh and Nora relationship. The writers keep delivering fantastic and challenging stuff for us to work with, which is always great as an actor. They have from the very beginning."
Beyond discovering whether either werewolves' curse has been cured or not, another compelling storyline for the couple spins out of Nora's actions from the previous year. Kristen confirmed, "That's a huge arc for her this season. We learn where she went and what happened when she went off and ran with the wolves. All the consequences from that really bubble up to the surface in Season Three." Huntington interjected, "Which is cool in my opinion because a lot of times when you have a fantasy based show it's so easy to gloss over the negative things that the characters do, it's so easy to forget about them. So I was very happy that our writers said, "No, no, no. These people are gonna pay for what they did." It's really, really cool and they did a wonderful job in ramping up the danger and tension involved." Kristen concurred, "Yeah, I think hardships either bring people together or rip them apart. And in their case it brought them together. I feel like now we're stronger than ever because of all of the stuff that we've been through together."
Commenting on her alter ego's ongoing journey, Kristen opined, "I feel like Nora just has so much baggage in her past and has gone through so many hardships. It felt like she was a victim, honestly, for so long. At first being a wolf was scary but right away there was also this new sense of power that she felt inside. Then she got very comfortable in her skin. That newfound strength was something she embraced. By the end of Season Two it'd gone so far that it began to terrify her because she saw what she was capable of – because you really have no control when you're the wolf. So, by the end of Season Two she was really just trying to hold onto any semblance of humanity that was still left inside her. At the start of Season Three a year and a half has passed, so at this point I feel like Nora has found a really nice balance between living her life as much as she can for 29-30 days a month and then going and being the wolf (on the full moon), then returning back to her very human life. Now, obviously, things will come up, more wolves will come into town which will instill those wolf urges in her once again. That's always going to be a struggle for her; the balance of "Do I love this?" or "Do I hate this?""
When quized about their predominant memory of shooting tonight's season opener Kristen confided, "Basically it's Sam and I searching for Sally and Aidan the whole time. We were working everyday all day which is a great way to start the season. And in Ep.1 the new character of the Witch is introduced and there's supernatural elements that come with that. It brings this whole new fantastic, exciting energy to the season which is such a great way to get back into things." "I just remember digging up a lot of dead people," Sam recalled, "We dug a lot of holes. That was weird. I remember one time in particular there was this really long shot in a cemetary and the hole we were in was only 2ft. deep but they were shooting a really low angle. So we had to be on our knees pretending to be six feet deep, it's so funny watching it back."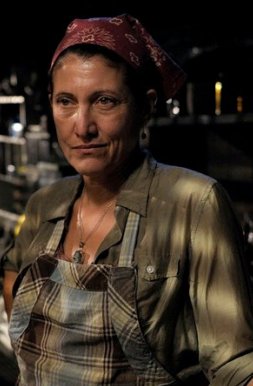 Speaking of the Witch, "Amy Aquino plays this wonderful character named Donna. She's so talented and so wonderful and so easy going." Sam elaborated, "She brought a newness and freshness to the table that was so cool right off the bat in Ep.1. It really kicks it off in a neat way. And she also just came in so prepared and cared so much. That is so great to see when someone comes in and just cares about the show and cares so much about wanting to do a good job. It was really refreshing and wonderful. She stands out in my mind as one of this season's best guest stars, for sure. And Kristen was so into the witch stuff and thought it was so cool. She was super giddy about it the whole time. Kristen was pretty adorable as we were shooting it." Kristen confided, "Yeah, Amy was fantastic. Those were some of my favorite scenes that we shot all year. I absolutely love all that witch stuff; The Craft was one of my favorite movies as a teenager."
Amy Aquino (ER, The Finder) joins a stellar list of Season Three guest stars including Mark Pellegrino (Lost, Supernatural), Kyle Schmid (Copper), Bobby Campo (The Final Destination) and Xander Berkeley (24, Nikita). "Xander plays a new character that Nora definitely has a very interesting storyline with this season." Kristen recounted, "He was great to work with and a fantastic bad guy. He's really good at his job and knew what he was doing. We had some great scenes together. He plays Liam, the father of the pure blood werewolf twins. He arrives in this season's 2nd episode looking for answers because he hasn't seen or heard from his children in over a year."
Asked to identify his favorite prop from the Being Human set, Sam Huntington divulged, "There's a little statue in the brownstone's living room that we've named Dog 'The Cat-Man' Dude because no one can really tell what the hell it is. He's actually featured quite a few times on the show and I feel like he's going to be the one piece of set decoration that we're all going to fight to take home when the show finally runs its course. I think Meaghan Rath is gonna win that fight."
What would an interview with the show's two werewolves be without an inquiry into the four stage process of applying the wolf makeup? "It's crazy man. It takes six or seven hours to put it all on." Sam breaks down the applications, "You have your chest and back pieces and those are the real beasts. They're real toughies because they take the longest to apply then you have to paint them in. Then there's a face application and that's a whole thing. Then you got the hands. The claws are the easiest to apply but they're also the most annoying because it's hard to get them off and they make peeing really tough. It's pretty intense. And then once you get into all that you have to perform in it, and it's not just performing, it's screaming and straining and wailing – acting like you're in the most physical pain of your life. And that unto itself is exhausting. But the good news is that the makeup is so uncomfortable that it's really hard not to be aware of it, so it actually kind of helps get you there so I guess that's good. But it's still the best job! When you're a young person dreaming of being an actor in TV or movies you're not thinking, "I really want to play an accountant." You know, you're like, "I want to play a friggin' superhero," or, "I want to play a monster." You want to play anything that's visceral and fun and interesting. So I feel like we're really lucky to have these jobs. What's cool about Josh, as a character, is that whether or not he's a werewolf he's a really layered guy. He's a real dynamic character. The werewolf thing certainly adds a huge other layer, but the character itself is really rich."
Did Kristen appreciate monsters and the supernatural as a kid? "I've loved it always. I feel like every girl at some point in their youth goes through a vampire phase. I definitely always, always, always loved vampires, anything supernatural and fantasy stories. And I still even now like the idea that there could be ghosts among us."
Don't miss Being Human's season premiere tonight, launching what Sam Huntington describes as "our best season yet," @ 9/8c following the American debut of Continuum and preceding the season premiere of Lost Girl. Kristen Hager reiterates, "There are new characters and an exciting new energy, not that it wasn't there before, but there's a real newness and freshness to the season this year." Having seen the first couple episodes myself, I can attest to the new season's awesomeness! Prepare for Syfy's relaunch of Powerful Mondays by checking in at GetGlue for this cool Coming Soon sticker prior to Being Human's premiere and again while viewing the premiere for this special sticker only available tonight.
http://youtu.be/BW6RuLYz0_Q