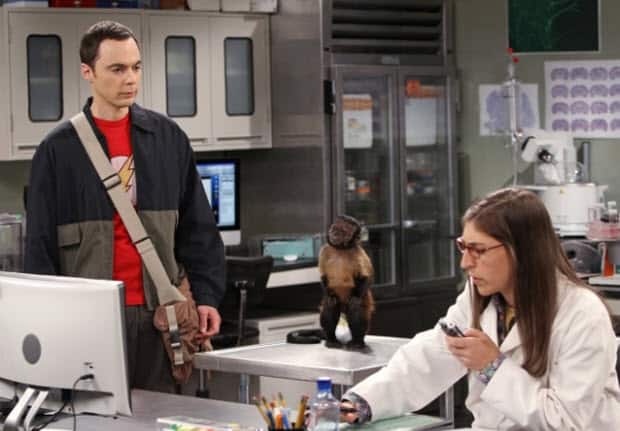 Big Bang Theory was a show that I never thought would catch when it first aired. 7 years later and its one of the few shows I watch religiously and get bent when I have to set it to DVR. Because even an hour later is too much.
Howard is one of the reasons I thought the show would never catch. He annoys the holy crud out of me and yet I'm pretty sure we all have a friend like him. And like that friend who no one else can stand, he grew on us. He even got married- the first in the group. He even went to outer space! But he's never been a bright one who can take a hint. And when he starts in that he could never work with Bernadette because he would get tired of her, a whole big can of worms is opened up leaving him sleeping on Raj's couch.
Its Amy, however, that got the job working with her significant other. I have been so, so happy that Mayim Bialik has stayed on the show for so long, and as Sheldon's girlfriend to boot. Their weird chemistry is hilarious and their nerdy awkwardness is always good for a laugh.
Sheldon, at first, has no issue with Amy working there, not seeing any of the issues that one would normally think of. But after talking with the gang, he realizes that it's a horrible idea, and all but orders Amy to terminate her contract. Amy vows to respect him at his place of work, and isn't even really bothered because she understands the concept of a professional work relationship. Sheldon, however, does not and continuously buts in making things just…weird.
There wasn't a whole lot of Leonard in this episode, and I really appreciate that Big Bang has become more of an ensemble than when it started. Penny makes a few jokes at the expense of Sheldon and Amy's relationship, but for the most part it was all about Howard, Sheldon, and Amy. It's so nice that the go-to geek show has added more females to the cast and even better that they, too, are geeks.