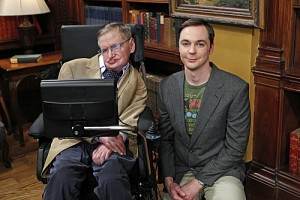 The Big Bang Theory seems to be on a roll with guest stars. Last week it was Leonard Nimoy (one of Sheldon's favorite actors). Tonight, one of Sheldon's heroes – physicist Stephen Hawking – will be making a guest appearance on the show.
In tonight's episode, titled "The Hawking Excitation", Wolowitz has an opportunity to work with the great Stephen Hawking. Knowing that Hawking is one of Sheldon's idols, he plans on introducing his friend to the physicist. At least, that's the plan until Sheldon stops by the cafeteria to announce that he's made headway with the Higgs-Boson particle equation and then insults Wolowitz's ability to properly understand physics. As a result, Wolowitz is no longer eager to introduce the two, but Sheldon is determined to do anything to meet Hawking.
"When people would ask us who a '˜dream guest star'for the show would be, we would always joke and say Stephen Hawking — knowing that it was a long shot of astronomical proportions," said Executive Producer Bill Prady. "In fact, we're not exactly sure how we got him. It's the kind of mystery that could only be understood by, say, a Stephen Hawking."
Watch a sneak peek below for tonight's all new episode of The Big Bang Theory at 8:00 p.m. ET/PT on CBS. Use the arrows above to browse through photos for the episode.