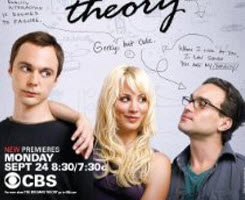 The three central stars of The Big Bang Theory, Jim Parsons, Johnny Galecki and Kaley Cuoco, have banded together to negotiate a raise from CBS. While their season seven contract is already worked out, they want a better deal for season eight, and they have pretty good leverage as the new number one show on TV.
The three stars are currently making $350,000 an episode, pretty great for a show with 22+ episodes a season. But pulling in 19M viewers, they now have a bit more bargaining power, and rumor has it they'll be asking for anywhere between $500,000 and $1M an episode.
Greed? No, smart thinking, more like it. This is exactly what the cast of Friends did when they all banded together to ask for $1M an episode late in the show's life. And Big Bang is starting to put up numbers pretty dang close to Friends, and there are only three of them, not six.
A show like Big Bang could last for another five years easily, and CBS would be dumb to try and play hardball with the trio. Granted, the TV market is much, much worse than when Friends was on the air, but when you have a hit show, you do whatever you can to keep it going. Unless it means working with Charlie Sheen.
How many seasons do you imagine the Big Bang Theory will run? Do you think its comparable in quality to a show like Friends? Why do you think so many people are tuning in?