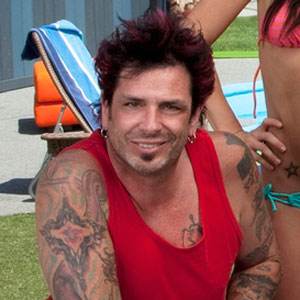 Well, folks, we finally got an answer to why Dick "Evil Dick" Donato left the Big Brother house. Sort of.
Hot off the heels of another episode of Big Brother on Sunday night, RTVZone.com caught an exclusive video from the Big Brother 8 winner about his early, unexpected exit from the Big Brother house. However, the site crashed immediately after the video clip was released and remained that way for most of the night. Until now.
The video clip is up again at the site and Donato gave his fans the truth concerning his departure and seriously went in on the rumors and those who started the rumors (who he said could kiss his @$$) surrounding the reasons why he left the Big Brother house. For one, no one in his family was injured (which makes sense given that Daniele is still in the Big Brother house) and rumors of his brother being killed in a car accident is false given that he doesn't have a brother. Epic fail for whoever started that one.
However, Evel Dick managed to tell his fans, haters, and the Big Brother viewing public the reasons for leaving the house… without actually telling us exactly why, which is cool and I (as everyone else should) respect that 100%. Only thing we need to know is that someone close to Evel Dick got sick unexpectedly and he left to go help them out, as any good friend would do. Out of respect to the friend's privacy, Dick refused to comment on just what is going on with them and, seriously, you can't help but give the man an ample amount of respect for that.
Despite apologizing to his alliance members, Daniele, CBS, and the Big Brother producers and fans, Donato did say that this was one decision he would never regret.
If you want to see the clip for yourself, Click HERE. CBS will be giving the fans a full explanation on this Wednesday's installment of Big Brother.
So there you have it, folks. We finally know why Evel Dick Donato decided to leave the game. Now, I say we should leave the guy alone and let him tend to his business and focus our attention back on the remaining hamsters in the Big Brother house.
Source: RTVZone