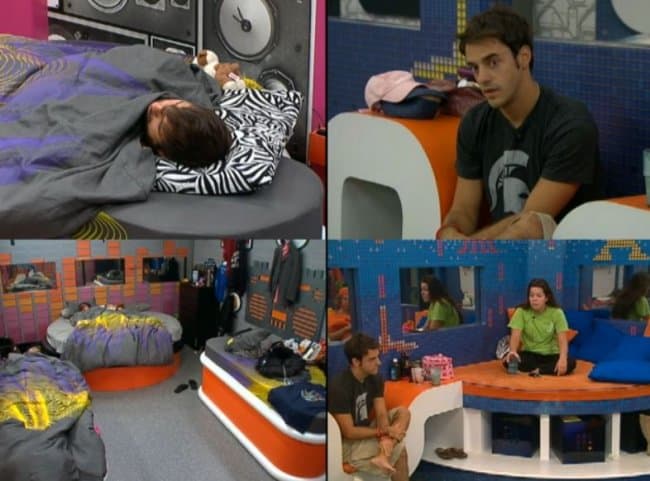 Update:  Tonight on Big Brother we will get to see the actual POV contest and ceremony that has caused so much controversy among feed followers this week.  Danielle and Britney are on the block after Frank tricked Ian into throwing away this POV, and forming an alliance with Dan and Jenn.  Since then,  Joe has joined the alliance.  Very little campaigning on the part of Britney means she will probably go home.  There is really no strategic leverage for Frank and his gang with either competitor.
Tonight we also get to see the diary room videos shot in reaction to the Power of Veto meeting.  This might help us understand a bit more of what the Big Brother players real intentions are.
Meanwhile, the lust to evict Frank may have actually been dialed down a few notches despite the absolute shock of his dirty play on Britney and Ian.  Dan's threat factor in the Big Brother house has sky-rocketed since he managed to pull off this most unlikely of alliances, and Ian's strutting about as the ultimate back stabber has got him voted 'least trustworthy'.
Generally, it seems the hitlist is now Ian, Dan, and then Frank.  Of course with Dan and Frank in alliance, this would only further weaken the Shane, Danielle, and Ian alliance.
I believe, and it is my opinion only, that Frank has finally gotten Joe to stick.  Frank has proven himself to be formidable, and the last person you want to double cross.  The problem is, he is also beginning to see beyond the alliances and has already promised to take two people to the bottom two on Big Brother,  Dan and Joe.  Once promises begin to break it will be difficult to build a jury that will work in your favor.
With gameplay at a minimum right now, it seems all eyes are on the live eviction episode of Big Brother tomorrow and the following HOH competition that has the potential to shift the landscape yet again.