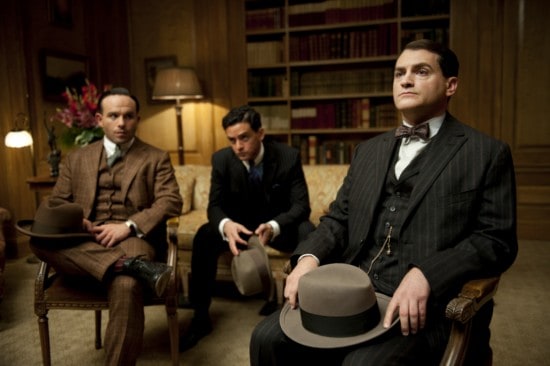 War is coming to Atlantic City and now it's only a matter of who makes the first move. Even though Nucky was deserted at the end of last week's Boardwalk Empire, the sneak peeks from the next episode show that several key allies have returned, likely due to the fact that their prior allegiance to Thompson will preclude them from any type of protection from Rosetti and Masseria. Nonetheless, the likes of Rothstein and Luciano are pawns back on the chess board and are decidedly in Nucky's corner, which likely explains his sudden boost of confidence.
While Rothstein is busy explaining the strike nothing strategy to Luciano, where you make a risky move against your opponent that leaves them without the chance to strike back, Nucky is planning on how (and when) to move against Joe Masseria. The thinking is that if Masseria falls, his considerable army will get out of the line of fire fairly quickly, leaving Gyp much weaker than he was before. Nucky might not be able to take down both men, but he has enough resources and alliance members in order to feasibly take down Rosetti; he just needs a chance to knock out Masseria and from what he's telling his men, there'll be an opportunity the coming Friday near a local bathhouse. The only question now is who'll pull the trigger.
Elsewhere on Boardwalk Empire, Nucky reaches out to Gaston Means, Margaret considers alternate futures, Van Alden runs into trouble, Chalky gets ambitious, Harrow defends Julia's honor, and a short shipment sends Gyp into a fury.
Boardwalk Empire airs Sunday at 9:00 on HBO. You can check out the season finale episode description here, as well as spoilers for the next two episodes here and the TVOvermind Boardwalk Empire discussion forum here.
How do you think the final three episodes of this season of Boardwalk Empire will play out? Will Nucky be able to strike first (and hardest) in the impending war with Masseria and Rosetti? When the hard times come, just how loyal are Rothstein, Luciano, and Mickey?