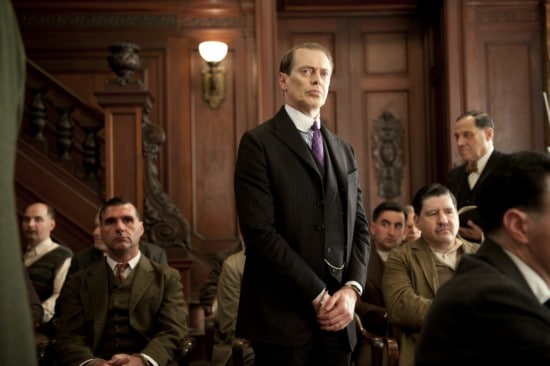 HBO has renewed Boardwalk Empire for a fourth season.
Though another go-around for the award darling was never in question, the network made it official today, ordering another season of gun play, political maneuvering, and gorgeous cinematography. The show recently picked up four Emmy awards for its critically-acclaimed second season, including a surprise win for Outstanding Directing in a Drama Series, and came back to fairly strong ratings for its third season premiere. While the number of episodes and premiere timetable weren't announced, Boardwalk Empire will likely be continuing its typical mid-September launch with another 12 episodes in 2013.
The third season of Boardwalk Empire has found Nucky Thompson embracing the gangster lifestyle that he had shunned for much of the run of the show. Make no mistake, Nucky has always been involving in the goings-on of his empire, but he tended to leave the violent aspect to other people, only indirectly getting his hands dirty in the process. But once he pulled the trigger in the second season finale, that all changed and left him with a choice to make – was it time for him to let go of any pretense of innocence and truly become a gangster? Nucky's already a fairly intelligent man and once you add a penchant for violence on top of that, he becomes a much more dangerous character in the process.
Maybe he's more evenly matched with new rival Gyp Rossetti than we thought.
Boardwalk Empire airs Sundays at 9:00 on HBO, with Treme following at 10:00. The latter has already been renewed for a fourth season of its own. You can check out spoilers for the next four episodes of Boardwalk Empire here, as well as the TVOvermind Boardwalk Empire discussion forum here.
What have you thought about the third season of Boardwalk Empire thus far? Has the show continued to raise its game following the shocking season two finale? Would you like to see Bobby Cannavale's Gyp Rossetti make it to season four?