I was quite torn by last week's episode of Boardwalk Empire "Erlkönig." It was a solid episode in and of itself, but it really made me come to realize just how surface value the show really is. Even though I've always had problems with Boardwalk Empire in the past (Too many needless characters, Storylines that didn't go anywhere), this season has really accentuated those problems by starting off incredibly slow with a lack of both compelling character moments and momentum building plot-pieces. Were at the half-way point of this fourth season of Boardwalk Empire and while some good things will never change (Beautiful set design, Harrow being Harrow), the first half has been somewhat of a letdown. Terrence Winter loves to slowly set things up for a grand finish, but there's a difference between interesting set-up (Anything with Dr. Narcisse and the Tampa dealings) and borderline terrible set-up (Anything with Willie and most of Gillian's drug fixation). The best TV shows have you so entertained and involved that even though you're watching plot set-up, you don't realize it. I want Boardwalk Empire to be a great show, but so far it seems more interested in putting down the tracks than it is in seeing the iron horse leave the station.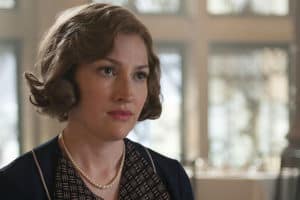 While "The North Star" didn't have a major death like last week's episode, I actually thought it was stronger because it focused on what the show does best: heated fits of passion within a duplicitous world. Both Chalky and Nucky knocked the boots this episode and while right now it would be easy to assume that Chalky is getting played and Nucky made a solid business partner through their encounters, that presumption could easily flip on its head in the next few episodes. Both Margot Bingham and Patricia Arquette nailed (pun intended) their roles this week. Daughter Maitland sang a beautifully alluring song that Chalky (and this viewer) couldn't help but be attracted to and Sally's badinage of punches with Nucky was the perfect mix of awkward and funny. Both of these relationships will have consequences (Violence is almost sure thing), but for now these acts of passion go unnoticed.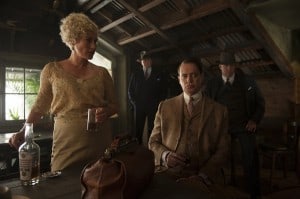 "The North Star" gets its title from Tommy who has become interested in the constellations. Harrow has returned after finding out that Paul (Julia's father) has a fatal cirrhosis diagnosis and later Julia accepts Harrow back into the house. I still don't know how Harrow will be integrated into the rest of the season (my guess is Gillian), but it's always nice to see the sight of Harrow holding Tommy's hand. Another big part of this episode dealt with Eli and Agent Knox, who having found Eddie's safety deposit key, team up to get what's inside. I've always had a soft spot for Eli (Brother Storylines always get to me in gangster films) and this episode made good use of Kessler's death to put the spotlight on Eli's terror of his children's future. His scene with Mickey was also a highlight because any scene with Mickey is always a highlight. I've liked Agent Knox as a side antagonist so far and I'm excited to see how he gets drawn into Nucky's circle as the season progresses.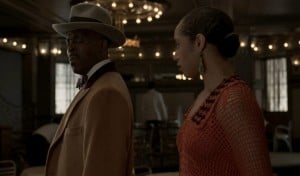 Margaret Schroeder was briefly brought back in "The North Star" for a scene that didn't do much for me. Schroeder isn't a terrible character, but in the past she's been given unnecessary storylines that are complete trash and have nothing to do with the main plot. I admire the writer's decision to not have her that much in this season, and this encounter kind of proves why I've been happy. It's not that Kelly MacDonald is a bad actress (In fact she's really great), but her character has been written so poorly with way too many unnecessary plot lines. While I loved Nucky's line about not putting anything alive in a box (Owen we'll never forget!!), this conversation is all I want from them together for a while.
"The North Star" = B
Novel Notices
- Sorry for the late review. I've been busy all weekend at the Yonkers Film Festival which was incredibly fun.
- Meyers is making his way up as Luciano can't let Masseria know he's been dealing behind his back. I've enjoyed Meyer's ascent this year and hope we'll get more scenes between him and Nucky.
- I would love to hear your thoughts on "The North Star." So write in the comments