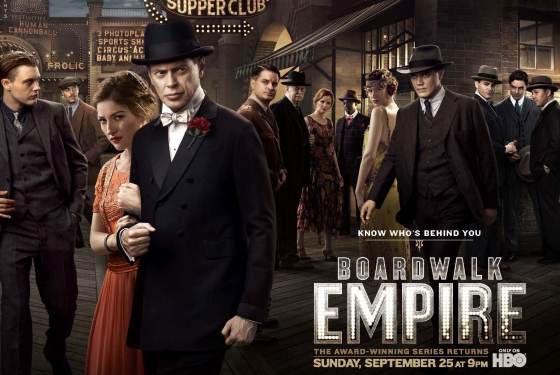 Season 2 of Boardwalk Empire hits our screens next month and HBO have unleashed another promo which reveals how much Nucky (Steve Buscemi) is up against this season and features a whole host of new footage. Whilst the first teaser (view here) showed the battle lines that had been drawn between Nucky and Jimmy (Michael Pitt), this new promo reveals which major players will be on each side with Agent Van Alden (Michael Shannon) gunning for them all.
The theme of this season appears to be loyalty with the tagline "Know Who's Behind You" serving a double purpose. The second promo that HBO released (see here) featured Nucky being harassed by a large crowd, whilst the main ensemble cast hung back on the peripheries creating a feeling of menace and paranoia. This new trailer plays on aspects of both of the previous promos; using the same slick editing from the first to show the violence and danger and setting up those who are with Nucky and those who are against. The latter group has many participants as Nucky sure did isolate many of his closet allies last season including his own brother Eli (Shea Whigham) and his somewhat surrogate son Jimmy who are in league with the Commodore (Dabney Coleman) to take back what they think is theirs.
The major players in New York look like they are willing to go where the money is and Lucky Luciano (Vincent Piazza) suggest adding a new line of heroin to Jimmy. A truce between Nucky and Rothstein (Michael Stuhlbarg) only occurred at the end of last season, will Rothstein do business with both sides? It looks like Chicago and Al Capone (Stephen Graham) will cut ties with Atlantic City but is Jimmy included in this?
The promo opens with the upbeat 1920s music that is often used on Boardwalk Empire and shows scenes of group frivolity that are short lived as the music begins to skip and we see many of the characters alone. The image that is perhaps the most haunting in this opening sequence is of Richard Harrow (Jack Huston) holding his glasses and tin mask in his hands. It will be interesting to see what role he will be playing this season and if he will remain detached from the violence that he is committing. Will Richard Harrow find his Tin Woodsman heart?
Margaret (Kelly Macdonald) asks Nucky "Who is against you?" with Nucky responding "All of them." This certainly looks to be mostly true, but it does appear that Margaret will be sticking with her decision to stay with Nucky. After he revealed all about his personal life, will Nucky share further with Margaret in the business dealings that he partakes in? It also seems like he has a very useful ally in Chalky White (Michael K. Williams) who tells Nucky "You go school these crackers." There is danger ahead for Chalky as the presence of the gun wielding Klan members can't be a good thing.
Season 2 of Boardwalk Empire looks set to be action packed and full of danger for all those involved in the liquor business. Check it out below and let us know what you think in the comments.
Boardwalk Empire returns Sunday, September 25 on HBO.