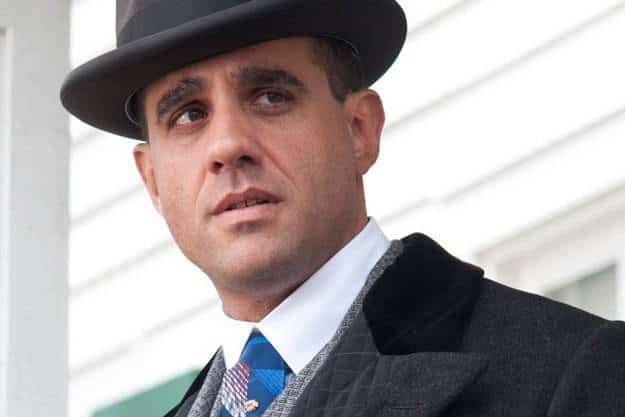 n the second season finale, Nucky Thompson sent a message to his enemies. Once perceived as unwilling to get his hands dirty and content to have others carry out his bidding, the Atlantic City treasurer gunned down protege Jimmy Darmody for making moves against him. For the duration of Boardwalk Empire, Nucky had been more focused on strategy and perception than brutality and death, but that Nucky is no more. In his place is a man that has tasted what it's like to kill and isn't completely turned off by the idea.
But if you thought that killing one person, however close, would deter people from coming for Nucky, you would be mistaken. The most recent trailer for the third season of Boardwalk Empire introduces his next great adversary, a gun-happy man played by Bobby Cannavale (Nurse Jackie, Will & Grace) that steals from Nucky and tries to strong-arm him. It's almost like people don't believe that Nucky Thompson, The Nucky Thompson, could be capable of continual violence, but he immediately tries to cut off the latest threat through gathering of allies and strategic meetings. Will there be a war between the two factions?
Elsewhere in the Boardwalk Empire trailer, Agent Van Alden pops back up, Margaret carries around a shotgun, and there's plenty of violence, including pools of blood from gunshot wounds and one pretty gruesome burning likely meant to send a message. To who, we'll have just have to watch and find out.
The third season of Boardwalk Empire will premiere Sunday, September 16th at 9:00 on HBO. The following week, Treme will be premiering its third season at 10:00. You can check out an additional trailer for the Prohibition drama here, as well as a season preview here and promo pictures from the premiere here.
Do you think the Cannavale's character will be a threat to Nucky? Why would Mrs. Schroeder be carrying around a shotgun? What do you think Agent Van Alden has been up to since he moved away?