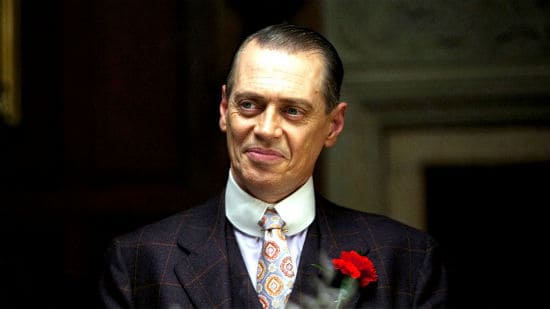 Boardwalk Empire's Nucky Thompson has never had a problem dispatching an enemy for his personal gain. Politics in the Prohibition era lend themselves to sometimes unsavory moves in order to move ahead and he didn't become the King of Atlantic City by playing nice and keeping his hands to himself. Everybody knows the game they're getting into before they take the plunge into the shark-infested waters of political corruption, thus relieving him of much of the guilt that could come with destroying another person.
The third trailer for the third season of Boardwalk Empire, though, finds Nucky in a weird position, one that he's not accustomed to occupying. After shockingly taking out Jimmy in the second season finale, Nucky's dealing with guilt for arguably the first time in his political career. It could stem from the fact that he's the one who actually pulled the trigger this time, rather than simply okaying the hit, but there's a part of Nucky that still loved Jimmy and saw him as the child that could do anything and be anybody. Jimmy had been his protege and the one to be groomed for ascendance to the throne one day, but he got too impatient and had to be put down. Or did he?
Nucky cannot afford to waste too much time fretting over his actions, though, as another man (guest star Bobby Cannavale) has stepped up to challenge him for control of Atlantic City. And he's bringing all the guns and manpower that he can to finally topple the great Nucky Thompson, so for Nucky to be able to keep control of his empire, he's going to have to focus and find it in himself to pull the trigger again. And again. And again.
The third season of Boardwalk Empire premieres Sunday, September 16th at 9:00 on HBO. You can check out the two other trailers for the season here and here, in addition to spoilers for the first three episodes here and the TVOvermind Boardwalk Empire discussion forum here.
Will you be watching Boardwalk Empire this season? How much of a threat do you think Gyp is to Nucky's empire? Do you think that the Atlantic City treasurer will be haunted by what he did to Jimmy all season long?